Although Comfort N Mobility had been operating successfully since the early 1990s, the digital presence of the practice had not been updated since those early days. After recently being purchased by a new owner, the company realized that it needed to modernize its presence as much as possible in a way that would not only allow it to attract the attention of a new audience but to also build a product catalog, create a strategy to be in front of qualified leads, and more.
After partnering with HIP Creative, this digital overhaul began with a stunning new website that was optimized for mobile devices such as smartphones and tablets. HIP also created a new video campaign that really helped to show off the personality of the brand, as well as the "mom and pop" feel that past clients had connected to in such a strong way.
Outdated Website
No Product Catalog
No Strategy
Easy-To-Use Website
Digital Product Catalog
Consistent Lead Generation
Responsive Website Redesign
Search Engine Optimization (SEO)
Pay-Per-Click Strategy
UI / UX Design & Development
HIP Creative built a totally new, fully responsive website for Comfort N Mobility from the ground up that is very easy to use on all devices. Not only did this site include the product catalog that was so important to Comfort N Mobility's leaders, but it also featured testimonials from customers and educational blogs on essential topics such as Medicare, Medicaid, and others.
• Responsive Design
• Goal Tracking
• Highly Secure
• Product Focused
• Cutting Edge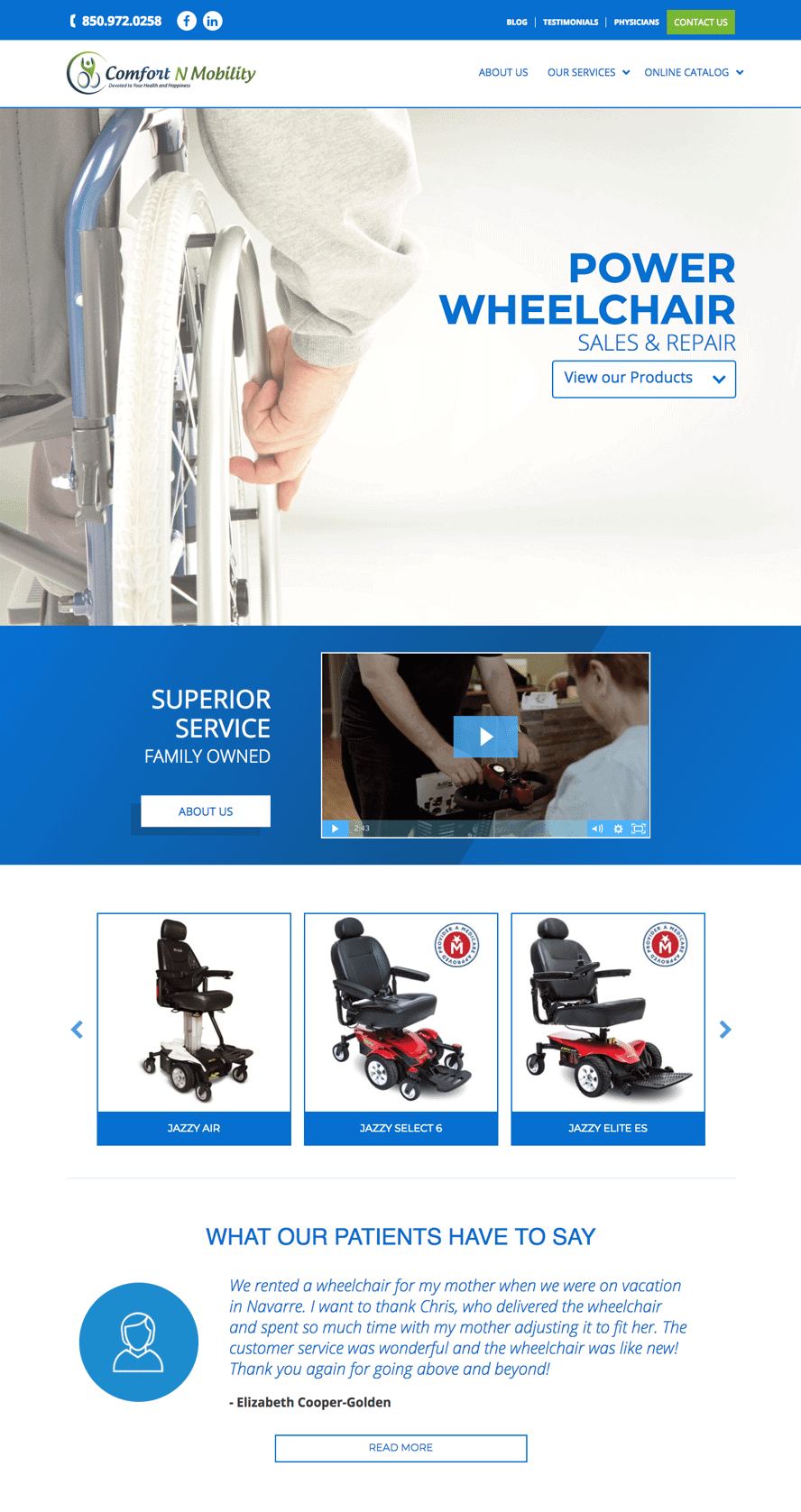 Comfort N Mobility needed a new website to make the best impression possible on a modern, tech-savvy audience. HIP Creative built a new site that offers a great user experience, allows products to be found easily by way of a stunning product catalog, and that acts as an educational tool for clients on topics such as Medicare and Medicaid.
400% Growth in Retail Sales
212% Increase In Website Traffic
40% Increase In Avg. Time On Page