Dr. Jorge Peláez was an expert in the field of neurology for over two decades when he decided to leave that profession to focus on Functional Medicine in 2013. Switching fields not only represented a massive shift in his own professional life but also in terms of the type of practice he was trying to operate — he knew he needed to "hit the ground running," but wasn't sure how to do so himself.
The issue was that Dr. Peláez and the Florida Health & Wellness Institute had no clear marketing strategy. Dr. Peláez himself lacked essential brand recognition and proper positioning and knew he needed the right content to educate potential patients as effectively as possible.
Needed a Different Approach
Brand Confusion
Engaging the target audience
Create a Clear Identity
A Strategy that Builds Momentum
Increase Patient
Educational Website
Search Engine Optimization (SEO)
Clear Branding
Marketing Automation
A New Educational Website
HIP Creative got to work on creating a brand-new education-focused website for Florida Health & Wellness Institute. It provides complete, in-depth and comprehensive pages on each condition, service, and treatment that Dr. Peláez specializes in or offers. Thanks to a responsive new design, it is also easier than ever for users to receive essential updates, schedule their free phone consultation or to even schedule an appointment to see Dr. Peláez.
• Responsive Design
• Goal Tracking
• Highly Secure
• Content Focused
• Cutting Edge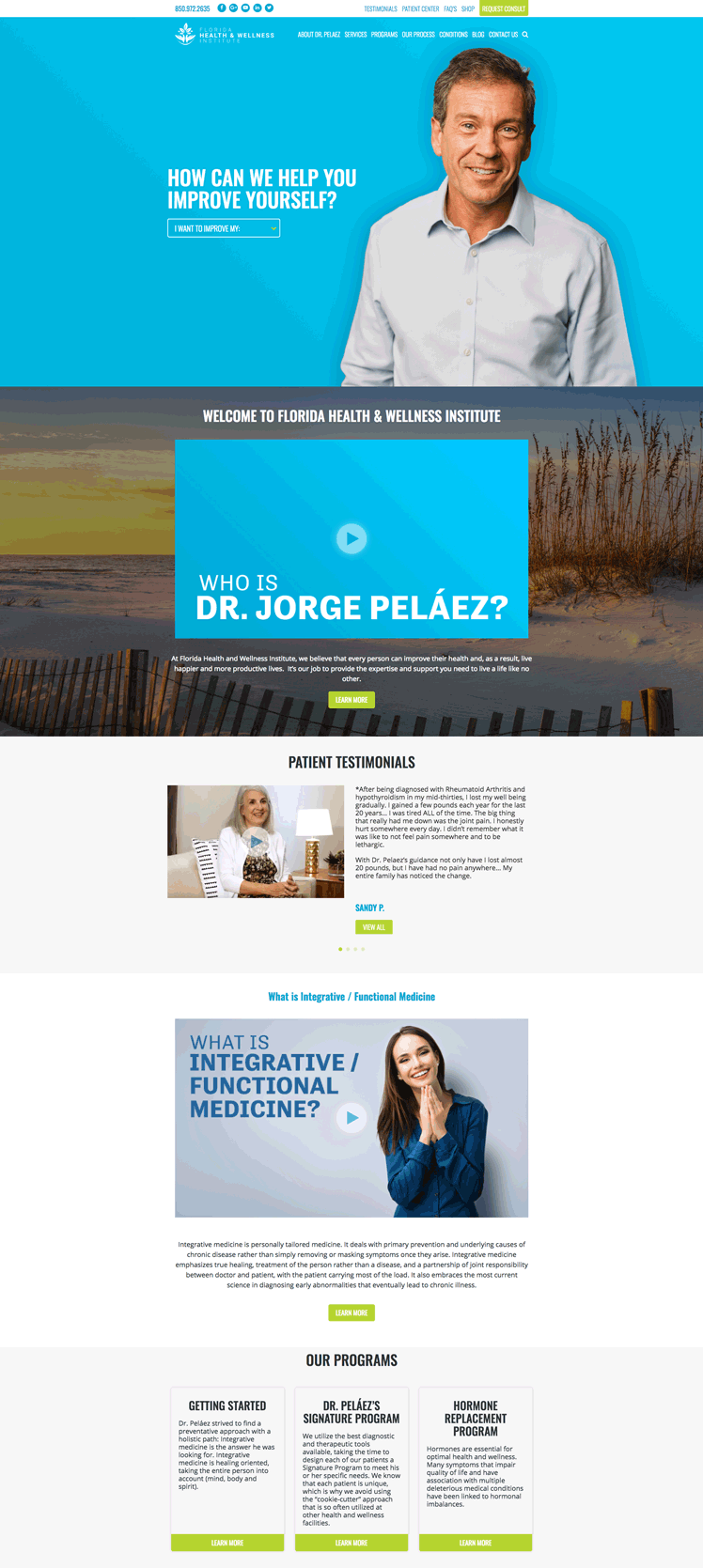 Patient Acquisition & Retention Framework™
HIP Creative also employed a unique Patient Acquisition and Retention Framework, maximizing Florida Health & Wellness Institute's ability to leverage existing patient data to connect with new prospects and even preserve relationships with existing ones. This solution is fully automated (thus eliminating human error) and provides the constant flow of accurate information that Dr. Dr. Peláez and his team need when they need it the most. 
The Patient Acquisition and Retention Framework maximizes your ability to use patient data to connect with new patients, retain existing patients, and grow your practice. The Framework is an information matrix that identifies, contacts, schedules, and maintains contact with the patient before, during, and after their surgery.
Dr.Peláez has been incredibly happy with the results of HIP Creative's efforts thus far. Not only was he able to accomplish all of his major goals, but factors like a 110 percent increase in the total number of leads generated actually exceeded the expectations of everyone involved. Florida Health & Wellness Institute is now incredibly well-positioned in its marketplace, with these recent efforts acting as a solid and stable foundation from which to build from moving forward.
68% Increase In Website Traffic
53% Increase In Facebook Fans