Dr. Chris O'Grady, a very prominent and industry-leading surgeon based out of the Andrew's Institute, recently identified a need to create a brand that lived beyond the location he practices inside. In addition to facing increased competition, he was dealing with a level of brand confusion that he was uncomfortable with - and something had to be done.
Dr. O'Grady and O'Grady Orthopaedics enlisted the help of HIP Creative to create a brand-new website focused on education, SEO strategies, clear branding and more. It both allowed people to educate themselves about the conditions and surgeries that Dr. O'Grady specialized in and acted as his own corner of the Internet at the exact same time.
Increased Competition
Attracting leads
Brand confusion
Organic Marketing Strategy
Increase Lead Generation
Clear Identity
Education-Based Website
Search Engine Optimization (SEO)
Clear Branding
Marketing Automation
The team at HIP Creative built a new website for Dr. O'Grady from the ground up, which provides a comprehensive, in-depth page on each condition, service and treatment that Dr. O'Grady specializes in or offers. It is now also incredibly easy for users to opt into receiving updates from O'Grady Orthopaedics or to schedule an appointment to see Dr. O'Grady for themselves.
• Responsive Design
• Goal Tracking
• Highly Secure
• Content Focused
• Cutting Edge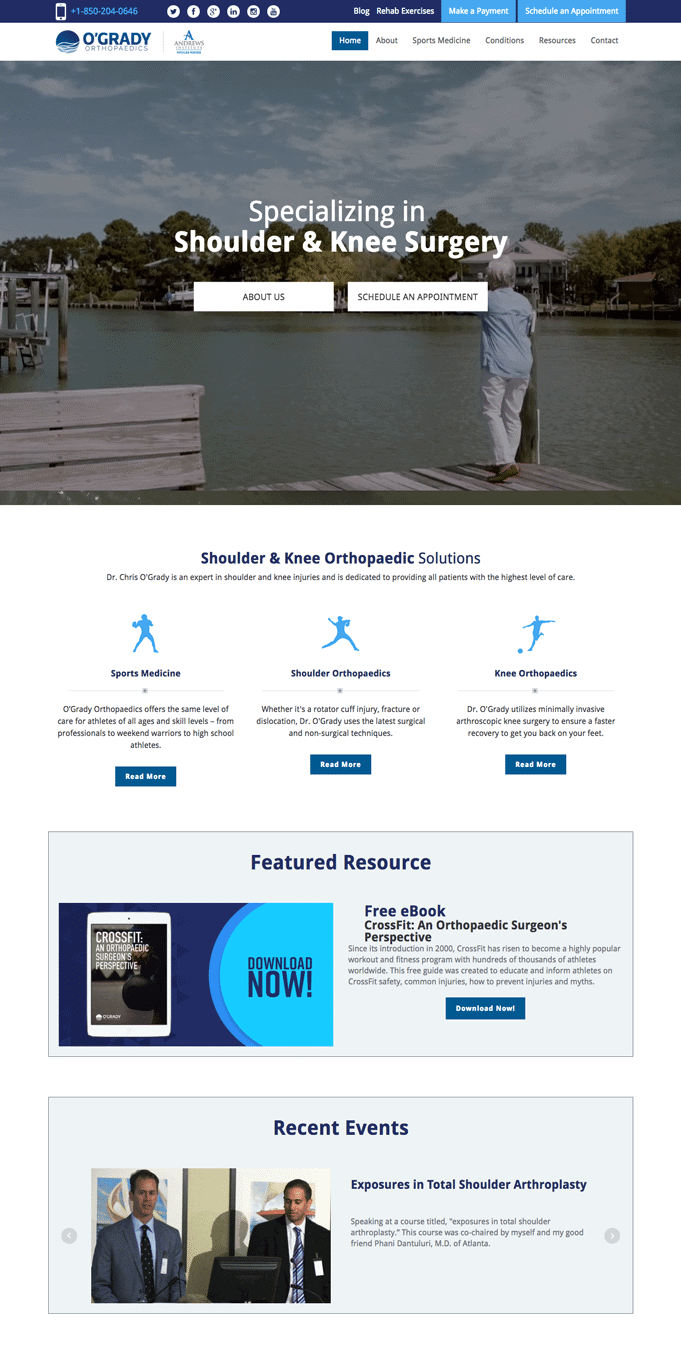 Patient Acquisition & Retention Framework™
HIP Creative also launched a Patient Acquisition and Retention Framework for O'Grady Orthopaedics, which maximized their ability to leverage existing patient data to maintain relationships, connect with new patients and grow their practice at a much more sustainable rate than ever before. It is now much easier (and largely automated) to maintain contact with patients before, during and even after their surgery or treatment has taken place.
The Patient Acquisition and Retention Framework maximizes your ability to use patient data to connect with new patients, retain existing patients, and grow your practice. The Framework is an information matrix that identifies, contacts, schedules, and maintains contact with the patient before, during, and after their surgery.
Dr. O'Grady is incredibly satisfied with the results that HIP Creative have been able to generate, which so far have succeeded beyond all of his wildest expectations. Requested consultations, website traffic and even social media impressions on sites like Facebook are currently up across the board.
164% Increase In Website Traffic
100% Increase In Facebook Fans