As true leaders in terms of plastic surgery in the Gulf Coast area, Patterson Plastic Surgery recently realized that they needed to modernize their marketing efforts to bring them more in line with the 21st-century image of the company. Their previous efforts were heavily focused on traditional marketing which, while effective, left them with no real way to track leads, dollars spent or other factors essential to determining a true return on investment.
HIP Creative was enlisted to not only help update Patterson Plastic Surgery's online identity, but to also establish a strategy that would help both increase awareness and lower cost-per-lead in one fell swoop. Our approach began with a complete digital overhaul by way of a responsive new website that focused on the experience of potential patients seeking information. A new blog was also created and an integrated marketing automation solution was also deployed across the new website.
Attracting New Leads
Increasing Brand Awareness
Engaging the Target Audience
Increasing the Quality of Leads
Increase Conversions
Align Sales & Operations
Building Nurturing Processes
Search Engine Optimization (SEO)
Content Development & Copywriting
Marketing Automation
Focused Campaigns
HIP Creative was able to design and launch a brand new website for Patterson Plastic Surgery, built to educate visitors on surgeries and treatments and act as an easy way for visitors to book appointments with Dr. Patterson.
HIP Creative also updated the Patterson Plastic Surgery color palette and typography styles to generate a sleek and new look, as well as created a blog and made sure that the website was equipped with lifestyle photos and videos of actual patients.
The new website is responsive, allowing it to operate perfectly on all devices.
New landing pages were employed for lead generation.
An inbound marketing campaign included elements like blogs, eBooks, videos and others.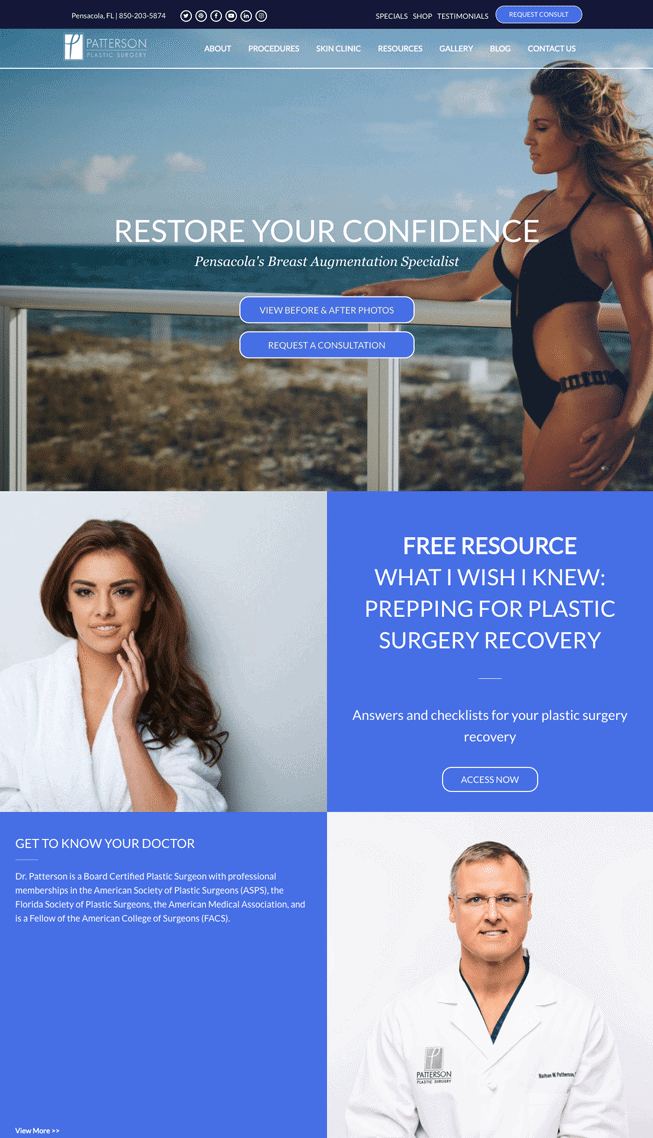 Patient Acquisition & Retention Framework™
In an effort to better drive traffic and increase both the volume and quality of leads, HIP Creative began a 90-day campaign that focused heavily on breast augmentation surgery. The content - which was created with social media distribution in mind - helped to educate patients on everything they needed to know in order to make the most informed decision possible when it came to their health.

This content also went a long way towards establishing Dr. Patterson as the go-to local expert for not just breast augmentation surgery but all of the other surgeries and conditions that Patterson Plastic Surgery had become experts in at the same time.
The Patient Acquisition and Retention Framework maximizes your ability to use patient data to connect with new patients, retain existing patients, and grow your practice. The Framework is an information matrix that identifies, contacts, schedules, and maintains contact with the patient before, during, and after their surgery.
Patterson Plastic Surgery wanted their website to act as an equal parts marketing and educational tool and HIP Creative was more than happy to deliver. We were able to employ a wide range of different techniques to educate visitors and create a way for new patients to book appointments with Dr. Patterson.
637% Increase In Website Traffic
100% Increase In Facebook Fans
285% Increase In Page Views