Scenic 90 Café is a diner located at 701 Scenic Hwy on the corner of Scenic and East Strong Street. It is owned by Gus & Nancy Silivos, Gus was the chef and owner of nearby Skopelos.
The restaurant is designed to look like a 1950s-style diner, with a stainless steel body accented with glass bricks and blue and red neon trim. Inside, there is a variety of seating options, including booths, tables, and a bar, as well as tables on an outside covered patio.
---
Here are some visuals of the new site.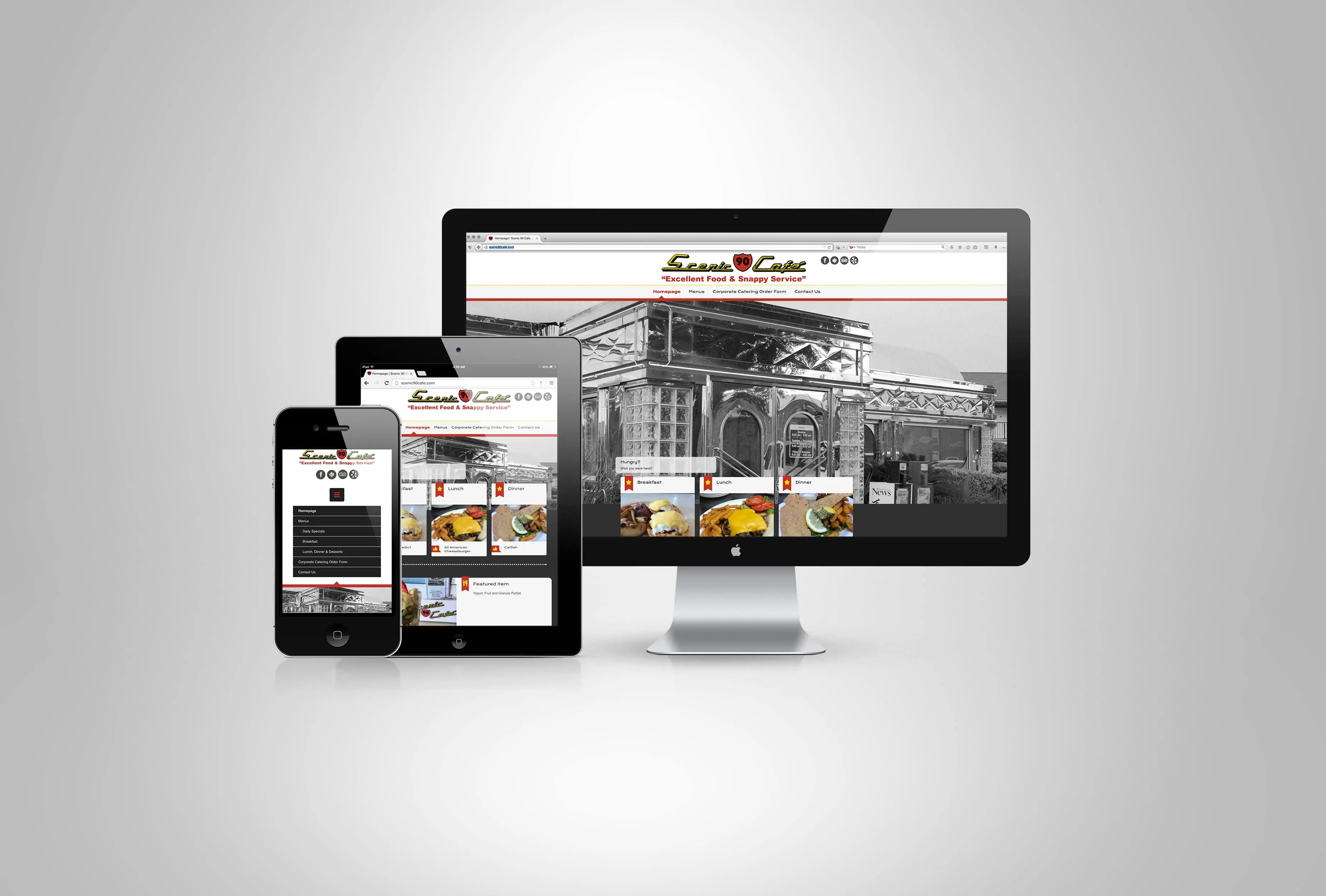 The design & development of the new website, completed by Hip Creative Inc, has been a great collaborative team effort with HIP and Scenic 90 staff that we are proud to share with you! 
---
Scenic 90 Cafe's website now offers many features that puts Scenic 90 Cafe in the mix of the latest design and development trends. Some of these features are:
Mobile Friendly – Optimized for any device via Responsive Web Design (RWD)
The new site is both desktop and mobile friendly, built in a Responsive Web Design format for an optimal viewing experience on any device making the new site easy to read and navigate across a wide range of devices including smart phones, tablets, laptops and desktop computers. Now you can easily connect to Scenic 90 from your office computer or your mobile phone and both will provide content that is easy to access and read.
Content Management System (CMS)
CMS allows publishing, editing and modifying the content of a website from a central interface to all the authorized users. It also enables your website to stay fresh with page updates and gives search engine optimization.
Some of the advantages of using CMS website are as follows:
Centralized System: A Centralized system brings all your data under one section which serves as centralized repository. Without any such system, the data might get scattered resulting in redundancy.
Accuracy: All the content in CMS has to be stored only once, which can be reused multiple times, giving flexibility of usage. Additionally, CMS keeps track of content reuse and relevant updates to the content if any, thus, keeping the content updated and accurate.
Secured Usage: By assigning user privileges, it is easy to keep the data secure through which only authorized people are allowed to edit the content.
SEO friendly: Best practices for search engine optimization like meaningful URL's, inclusion of page titles, correct metadata etc. are prevalent with the use of CMS.
Low Cost: Some Content Management Platforms like Drupal, WordPress, Joomla! are open source while for others minimal cost can be incurred.
---
HIP would love to chat with you about building or refreshing your business website. Schedule an exploratory call with us to discuss your project!