If you want to grow your orthodontic practice quickly, dental referrals alone won't get you there. So, whether you're a startup office or a decades-old practice, you need marketing to bring more new patients into your practice.
Orthodontics marketing can be hugely profitable and drives hundreds of millions of dollars of growth every year. But managing your own marketing campaigns is a proven way to waste time and money while distracting you from providing top-quality care to your patients.
Hiring talented marketing professionals is hard, and expensive. So it's often better to hire a marketing agency to help you grow your orthodontic practice.
But many practices hesitate when it's time to hire an orthodontic marketing agency—after all, how do you find the agency you can trust to grow your business?
Fortunately for you, there are proven ways to ensure you choose a marketing partner that will get you results. So let's look at how to choose the right marketing agency to grow your orthodontics practice.
What Makes A Great Orthodontic Marketing Partner?
When choosing an orthodontics marketing agency remember to focus on the word "partner." 
Because no two orthodontics practices are the same. And your marketing partner must be willing to invest the time to truly understand your business if you're going to be successful together.
Yes, some tactics and strategies, like digital marketing, work for all practices. But your team may need to execute those practices successfully, so your marketing agency needs to be skilled at helping your team get results from their work.
But partnerships work in two directions. So if you want to get results from your marketing investment, you and your team must be good partners too! That means embracing your marketing agency's advice and implementing their suggestions to maximize your growth.
A successful marketing campaign can only deliver highly profitable growth if you and your marketing partner are aligned on the goals, strategies, and tactics.
Do Orthodontic Practices Need Digital Marketing?
There are dozens of ways to raise the profile of your orthodontic practice in your community—local magazines, billboards, bus stops, sponsorships, postcards, referral partnerships, social media posts, and many more. 
But nothing can compete with digital marketing if you want to start more patients in the next 30 to 90 days and scale your growth quickly.
Because over 67% of people prefer to book appointments online, digital marketing is a vital component of any successful orthodontics marketing strategy. It's the only way to create rapid, sustainable, and profitable growth for new and established orthodontics practices.
Some of our clients have started generating dozens of new patients—not leads but paying patients— within just a few weeks. And their first digital marketing campaigns often return $50 to $70 (or more) for every $1 they spend on ads!
But aren't leads from Facebook and Google 'bad leads'?
You may have heard that orthodontic leads from digital marketing are low-quality. Or maybe you've struggled to run profitable Facebook ad campaigns yourself.  
So here is the absolute truth about digital marketing for orthodontics:
There are no 'bad leads,' only broken follow-up practices.
If you've tried to run digital campaigns but can't convert your leads into patients, 99% of the time it is an issue with your follow-up practices and not the quality of the leads. That's why you should choose a marketing agency that will partner with you to help you optimize your follow-up and conversion practices.
We believe that every orthodontic practice can make money with digital marketing. You simply need an experienced orthodontic marketing partner to show you proven path to highly profitable growth.
How to Choose The Best Orthodontic Marketing Agency
We've established that a robust 2-way partnership is the #1 thing to look for in an orthodontics marketing agency. But let's take a look at five additional elements that are critical to choosing the right marketing partner:
Pick An Agency That Specializes in Orthodontics
Always select a marketing agency with a proven track record of creating profitable growth for orthodontists.
An experienced orthodontics marketing agency has up-to-the-minute data which ads and promotions are driving new patients into orthodontists' offices today. Plus, they'll have dialed in their targeting and bidding strategies to help you get more out of every penny you invest.
Choosing a generalist marketing firm is like taking your Porche to the neighborhood mechanic instead of the dealership. Will they be able to fix it? Maybe? But even if they do, they may have to fumble through it and learn as they go, wasting your time and money in the process.
Regardless of how flashy their website is, a marketing agency without experience in ortho will have a bigger learning curve. Even an agency specialized in dental marketing will often lack the expertise to get you the immediate results that an agency specialized in orthodontics can deliver.
Insist On Active Communication
Effective communication drives any successful partnership. So choose a marketing partner that listens to what you have to say. And be sure they clearly spell out what you can expect from them, too.
But most agencies will be engaged during the sales process, so how can you be sure they won't disappear once the contract is signed?
Start by calling their offices directly and see if someone answers the phone. 
And test how quickly they get back to your online inquiries—if they can't be bothered to return your sales call, that's not a good sign of what's to come.
Finally, you can look at independent online reviews or talk to their current orthodontics partners to see how they feel about the quality of their relationship.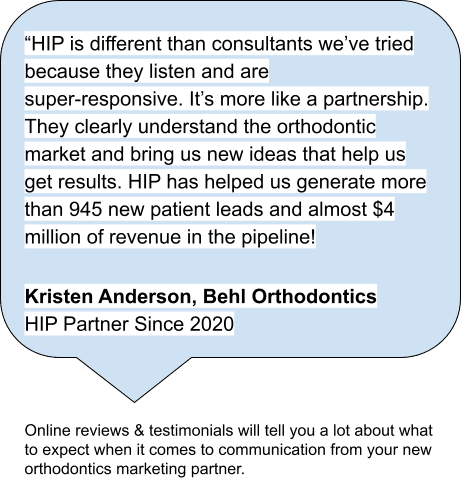 Ask For References
Client testimonials are great, but any marketing agency will pick and choose which glowing reviews they want to feature on their website.
To get a better idea of what it's like to work with a marketing agency, ask the companies you interview for references from other doctors. If an agency does good work, it should have at least a few partners willing to jump on a call with fellow orthodontists to share their experiences.
During a short conversation with a fellow orthodontist, you're more likely to uncover a potential marketing partner's true strengths and weaknesses.
Demand Proof Of Positive ROI
You don't measure your success in leads generated, and neither should your orthodontics marketing agency!
Do they just get leads? Or do they drive profitable revenue growth?
Testimonials, references, and experience are great. But you should insist on seeing the cold, hard statistics about the return-on-investment (ROI) they've generated for their partners.
A good agency should have a track record of creating high-ROI growth. After all, leads won't pay your bills. And low-ROI growth creates more work without significantly boosting your bottom line.
Prioritize Long-Term Relationships
You can tell a lot about a marketing firm by how quickly their clients jump ship to another agency.
The national average for turnover in marketing agencies is 30% annually. And many small digital marketing firms lose as many as 50% or more of their clients each year.
At HIP, we have a 99% year-over-year retention rate with our orthodontic partners. We wouldn't be able to build those long-term relationships if we weren't creating profitable growth for our partners.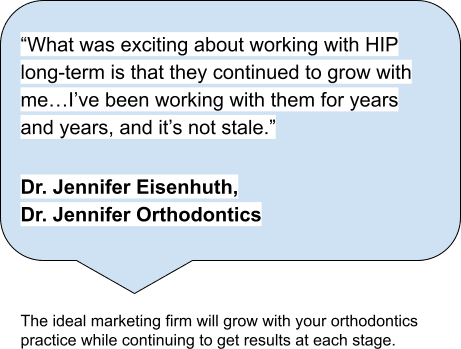 Don't be afraid to ask a prospective marketing agency directly about their client retention rate. Your goal should be to build a long-term relationship with a marketing agency that understands your practice and can help you scale over time.
Can Your Marketing Company Help You Start More Patients?
Most marketing firms feel that their job starts and ends with leads. So they'll deliver monthly reports showing you the number of clicks and leads they've created for you. And they'll brag about their cost-per-click (CPC) and cost-per-lead (CPL) statistics.
But what do those stats mean to you if you're not starting more patients? 
At HIP, we believe the only marketing statistic that really matters to orthodontics practices is new patient starts.
New patients bring revenue. They create positive reviews. And they raise your profile in the community while also growing your bank balance.
That's why we believe an orthodontic orthodontic marketing firm needs to do more than just get you leads. They need to be able to train your team to convert digital leads into paying patients consistently.
After all, those leads aren't worth a penny if you can't convert them into patients.
7 Questions to Ask Before Hiring An Orthodontic Marketing Firm
Now that you know what to look for in a marketing partner, use this quick cheatsheet for interviewing your prospective marketing agencies:
What is your experience in orthodontics marketing?
How important is digital marketing to your overall marketing strategy?
Can you tell me about the ROI you've created for your partners?
How do you ensure your partners convert leads into patients?
How quickly can I expect a response from your team day-to-day?
What is your retention rate for existing clients?
Can you provide a list of 3 references I can speak to?
Work With The Marketing Partner Behind The Nation's Fastest-Growing Orthodontics Practices
If you're looking for a marketing partner that checks off all the boxes above, then put HIP at the top of your list for agencies to investigate.

Over the past decade, we've produced incredible results for many of the nation's top orthodontics practices, like:
Fishbein Orthodontics: We helped them 10X their practice from $2M to $26M in just 5 years, growing online conversions 500% through digital advertising, SEO strategy, reputation marketing, and more.
All Smiles Orthodontics: We helped Dr. McDowell achieve a 1,650% ROI on his digital ad spend. We helped him see which advertising campaigns were working and worked with his team to optimize conversion rates.
Knecht Orthodontics: In 2022, this startup practice hit $200,000 in a single month with 36 new patient starts. And they've deployed the strategies in our PARF™ framework to start as many as 6 new patients in a single day.
Our Patient Acquisition and Retention Framework (PARF™) has created over $77M of revenue growth for our orthodontics partners by helping them attract and convert more leads every single day.
And we developed the first-ever CRM system specifically for orthodontics practices, PracticeBeacon. It helps you convert more of your leads into paying patients while giving accurate ROI reporting on your advertising campaigns.
We invite you to do your research and check out the competition. But you won't find anyone with more success creating exponential growth for orthodontics practices from coast to coast.
When you're ready to get serious about your growth, reach out to our team to schedule a free consultation. And let us show you how we'll help you dominate your market to build the practice of your dreams.