You could have a fantastic orthodontic practice with a beautiful location and top-notch staff. Still, if you aren't easy to find online through local search results, nobody is going to know it.
For most patients, the search for an orthodontist starts with a Google search. And the first result gets 10x the number of clicks that the 9th or 10th result gets. So if you aren't front and center on that first page—especially in the "Local Pack" of Google Map results—your practice is losing out to your competition.
The good news is you don't need to earn the #1 position on Google for the whole USA to dominate your local market. You simply need to be among the first practices to appear when people search orthodontists in your area. And that means mastering the art of local SEO for orthodontists.
What Is Local SEO And Why Is It Important?
SEO stands for Search Engine Optimization, which is the process of improving your online presence to ensure your orthodontics practice appears at the top of Google's Search Engine Results Pages (SERPs).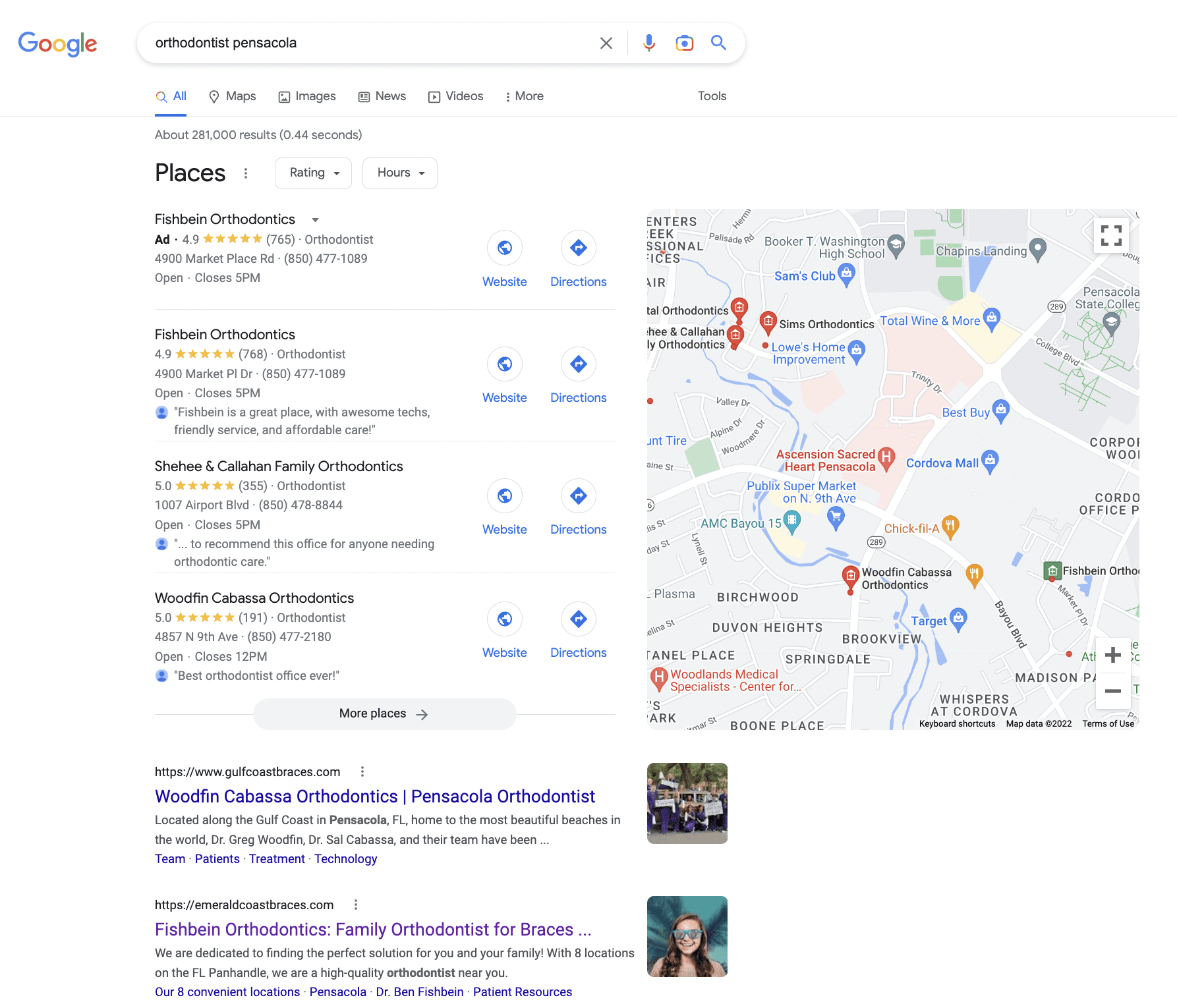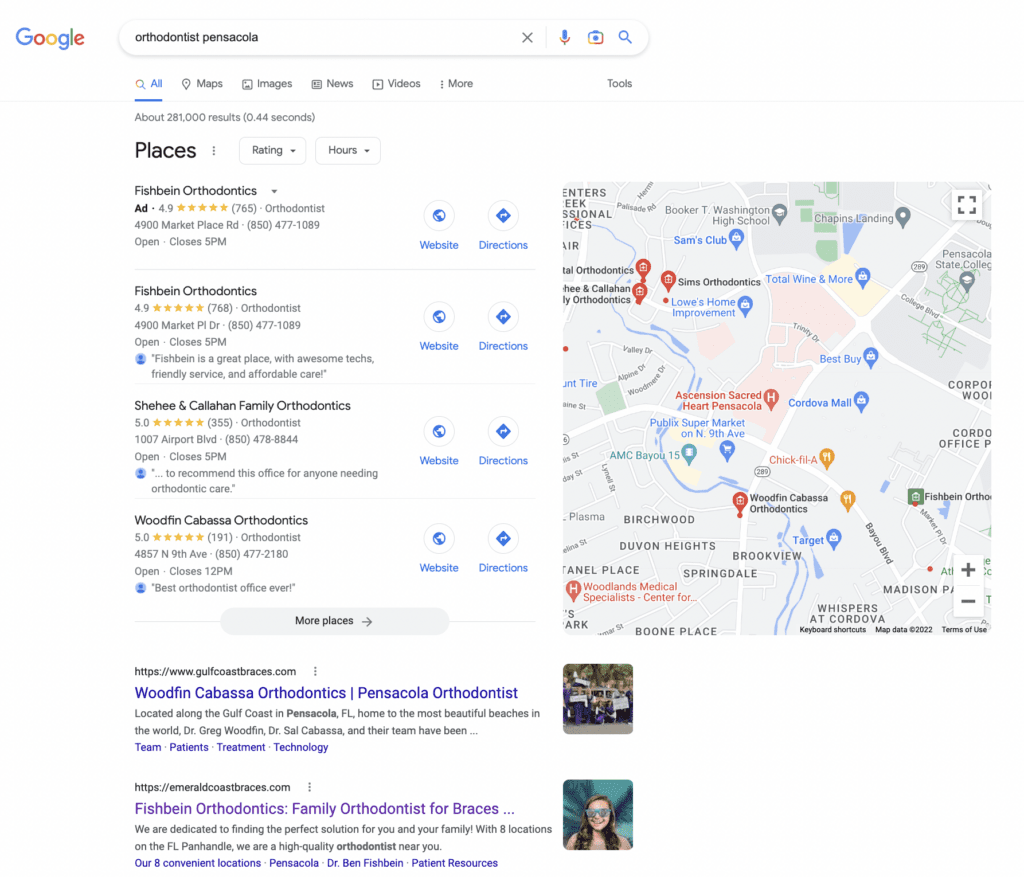 For example, if someone is searching for "How does Invisalign work," it would be great if they found that information on the website for your orthodontic practice.
Optimizing your site to attract more visitors is called Organic SEO, which boosts your overall online presence. So you want to have general information and helpful, engaging content so that everybody can find your practice online.
How Is Local SEO Different From Organic SEO?
Local SEO is similar to Organic SEO, except the goal is to optimize for searches in your local geographic area. After all, if your searcher lives in Miami and your practice is in Kansas City, they won't be visiting your office for a consultation on Tuesday.
So, to attract new patients near your orthodontic practice, you want to ensure you rank well in searches like "orthodontist near me" or "best orthodontist Kansas City." Since orthodontic practices have a physical location and serve a local area, showing up in local searches is extremely important.
Traditionally, organic SEO is focused on on-page elements of your website. But thanks to how Google has prioritized Google Business Profiles and Maps Packs, a Local SEO strategy for orthodontists also involves factors external to your website.
Let's look at why that is.
Breakdown Of A Local Search SERP
When someone searches "orthodontist near me" or "orthodontist Kansas City," the search engine uses their location to help determine which results to display.
At the very top of the search engine results page are paid advertisements. Of course, you can bid on these spots too, but it may or may not be worth the cost. According to a recent study, only 10% of website traffic comes from paid search results.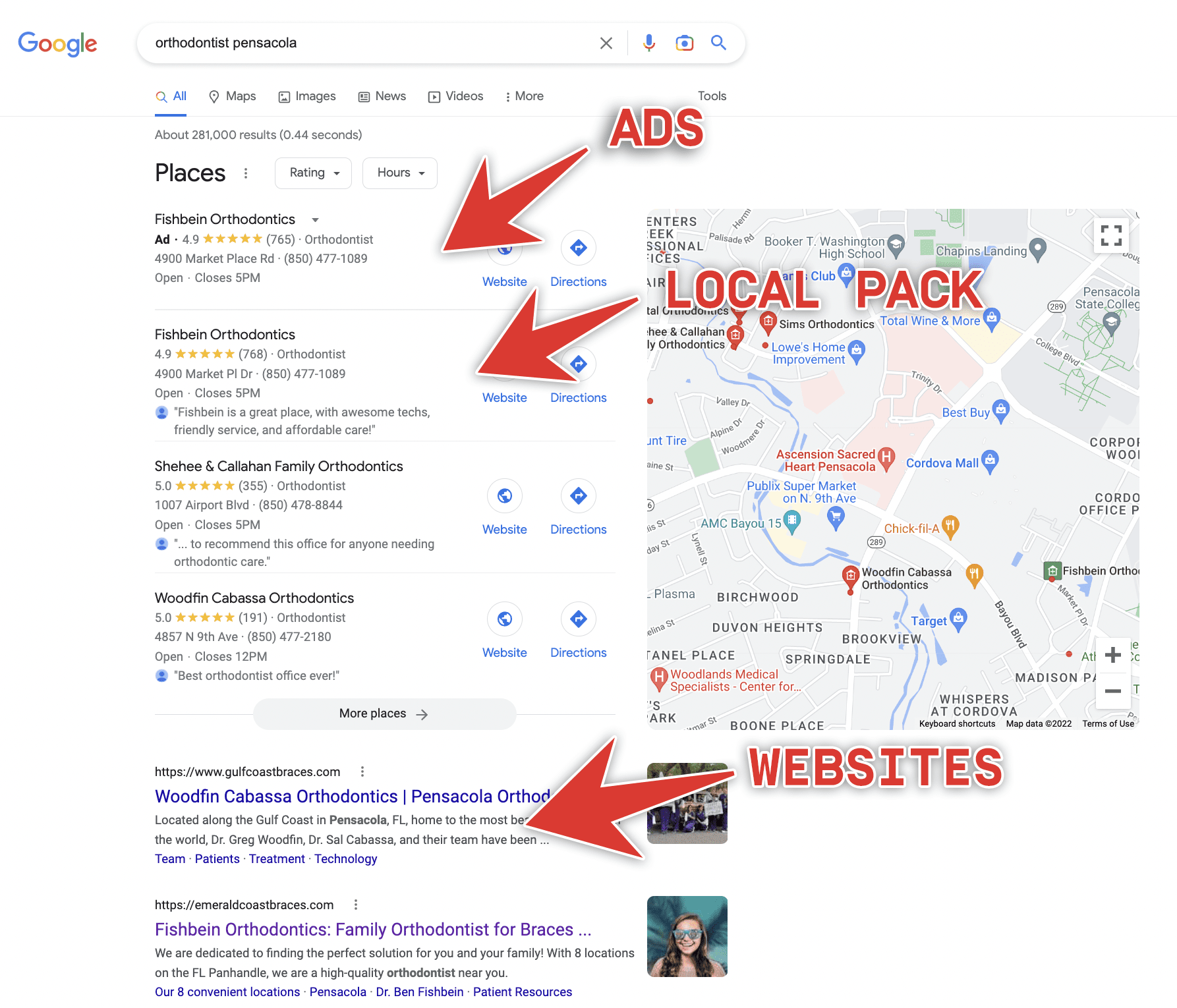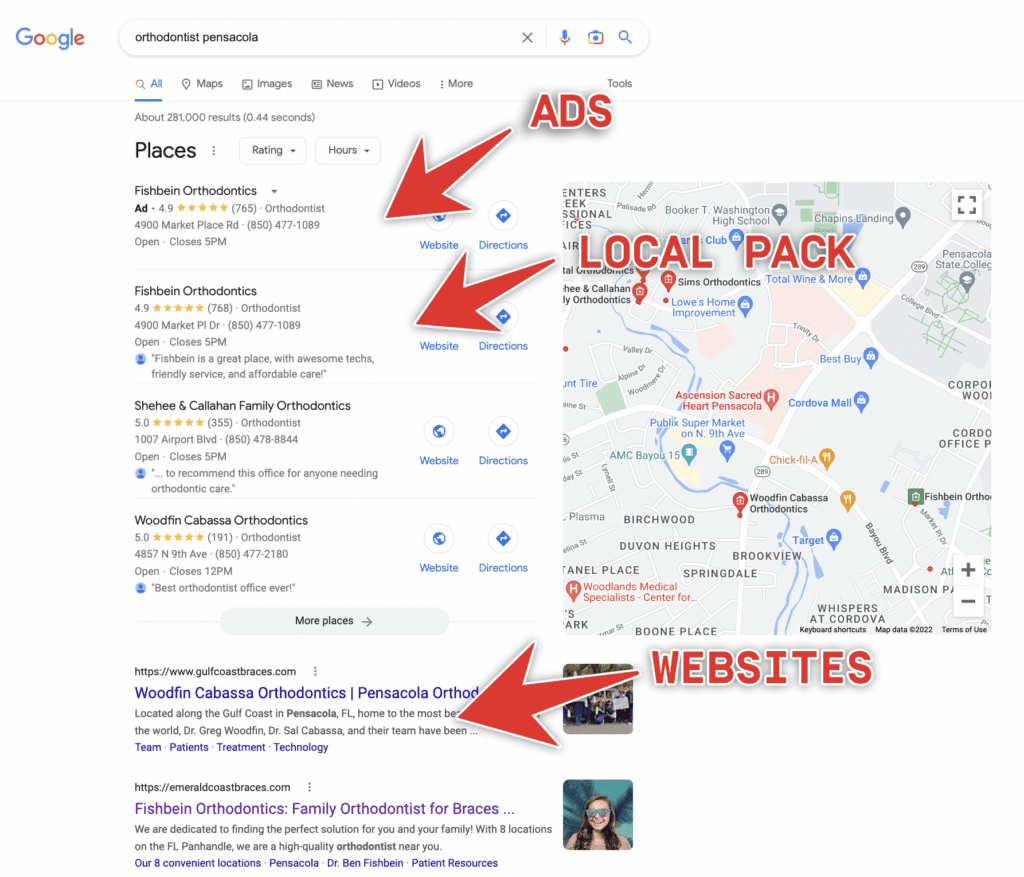 Below the ads, Google will present a "Local Pack" of the top 3 results for orthodontists and their locations on Google Maps. The "Local Pack" accounts for 33% of all the organic clicks, so that's where you want to be.
Further down the page, you'll see links to orthodontic practice websites, review sites like Yelp, and more. This is where your website will show up if you've mastered Local SEO for your orthodontic practice.
It is still important that your website ranks highly in the organic search results, which was the traditional goal of organic SEO. But because Google gives preference to the Google Maps results on local searches, your website is no longer the #1 priority for local SEO—that honor falls to your Google Business Profile.
Let's take a look at how your orthodontic practice can rank higher on Google Maps and local search engine results with some local SEO tips.
Winning Local SEO Strategies For Orthodontics Practices
Optimize Your Google Business Profile
To get into the all-important Local Pack, you must have a Google Business Profile (GBP) and make your profile appealing to prospective patients. Without a GBP, your orthodontic practice won't show up on Google Maps at all.
Your Google Business Profile is a complement to your website, and it's free, so there's no excuse not to make it the best it can be. Here are a few tips:
Ensure your information is up to date, accurate, and consistent from your GBP to your website. For example, there shouldn't be any discrepancies in business hours, addresses, or other contact information.
Make sure your practice is listed in the correct category for orthodontists. And if there are relevant secondary categories, select them as well.
Search engines love content just like people do, so be sure to add plenty of pictures of your practice and the smiling faces of the people that work there. Of course, happy patients make for great photos as well.
Google loves to see current GBP activity, so don't just set it and forget it. Instead, you can use the Posts feature to post new images or news, including promotions, events, or other updates.
Finally, if your orthodontic practice has several locations, make sure you have a Google Business Profile for each one. If you're just listing a central location, it may be too far away to be relevant for some searches. They can all be controlled from the same account.
Don't Sleep On Your NAP
NAP stands for name, address, and phone number, and it's essential to have this information for your orthodontic practice accurate and consistent across the internet. That means you want your NAP to be exactly the same everywhere it is found online. Consistency is a big part of Google's algorithm for "Local Pack" and local rankings.
For example, suppose you list your address as "Maple St" on your Google Business Page but list it as "Maple Street" on Facebook. In that case, that's an inconsistency that could hurt your search ranking. You can use free online tools to see how your NAP looks across multiple sites and see if you might be missing from some of them.
It's also vital to have your NAP on your website as text, not as an image or part of another file type. This is because Google's web crawlers search for text, so it won't recognize other ways your NAP might appear.
Do Your Research. Keyword Research.
To optimize your orthodontic practice for Local SEO, you'll want to know which keywords people use to find local orthodontists. Then, use those keywords and close variants in your online content.
This can be as simple as typing something into Google and looking at the autocomplete results in the search bar, or using Google's free keyword planner tool. Google's autocomplete suggestions rely partly on location data, so you can get an idea what keywords people use in your area to find local orthodontists.
You can even hire an SEO professional to do this for you and apply their findings. In addition, a professional can analyze your existing online presence and give you an SEO strategy that will improve your local visibility.
Keep It Real With Local Landing Pages
If you have just one web page for a multi-office practice, people in the next town over might not know you have an office there too! Creating an SEO-optimized page for each community gives you a better chance of displaying in search results for searchers in that area.
Local landing pages also build trust with these other communities because they allow you to speak the local language and recognize that their needs differ from those of neighboring communities.
And with a call-to-action that links to your main page, you'll improve your website's internal linking to improve its overall standings.
Boost Your Orthodontic Practice With Google Reviews
Your Google reviews increase your standing in local business results, so the more 5-star reviews you have, the better. Google has been steadily increasing the weight reviews carry in search result standings.
When your patient is praising your practice, feel free to tell them how much a Google review could help other people find your office. You can also send a follow-up text after a visit or send out an email campaign to your happy patients.
Be sure to respond to every review, good or bad, to let patients know you are listening. However, if you need to deal with a bad review, take the conversation offline to figure out what went wrong and how you can do better in the future.
Get Connected With Local Backlinks
Getting your website referenced with a link on another website can really boost your search ranking. It's a sign to search engines that the online community regards your site as an authority.
Your local Chamber of Commerce and other community web pages are great places to start. You can also get your practice listed on online directories like the American Association of Orthodontists, which will backlink to your website.
But don't do this all at once because Google's bots might think something's fishy if a website suddenly has ten new backlinks in a day. On the other hand, if you do this gradually, it'll help boost your position in local SERPs.
Why Local SEO? Reduce Your Patient Acquisition Cost
If you've already invested in a responsive website using best practices for SEO, dominating local search results won't cost you anything. Instead, local SEO offers almost infinite return on investment and brings in highly motivated potential patients.
After making a local search on a smartphone, 88% of consumers will call or visit the business they found within 24 hours. So improving your ranking on local search results could be the secret to growing your practice.
Put Your Orthodontic Practice On The Google Map
If you don't see your practice in the Local Pack, you need to improve your local SEO right away. Because there's no easier or more profitable way to grow your orthodontics practice.
HIP provides local search engine optimization exclusively for orthodontists as part of the Patient Acquisition and Retention Framework™. With our help, your practice will dominate the search results in your area and plant the seeds for explosive growth.
Schedule a consultation and see how HIP can help your practice reach more patients today!