Google Search visibility is the name of the game when it comes to winning orthodontic marketing. Research shows that the #1 position on Google is worth more than positions 2-5 combined. And when it comes to winning at local SEO for orthodontists, your Google Business Profile is the key to everything.
Why Does Orthodontic SEO Matter?
As many as 1 in 5 patients find their orthodontist through an online search. And many more rely on searches, websites, and reviews to compare options and evaluate potential orthodontics providers.
But if your orthodontics practice doesn't appear among the first items displayed in a search, you're not seen as a serious competitor. Search Engine Optimization (SEO) is the process of optimizing your online assets to rank higher in online searches. And it's the key to grabbing more market share for your practice.
And because of how Google organizes its search results, the Google Business Profile has an outsized role in orthodontics SEO. So what is it, exactly?
What is a Google Business Profile?
A Google Business Profile is a card or box you see pop up when you search for any local business. You may know it as the Google My Business page, but Google actually rebranded it in 2021 and will discontinue the legacy Google My Business app sometime in 2022.
A Google Business Profile for an orthodontics office looks like this:
GBP Pages in Search Results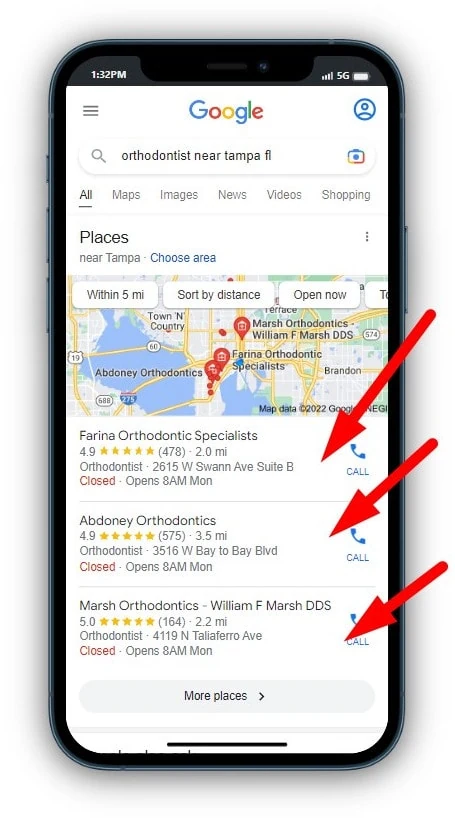 Full Google Business Profile Page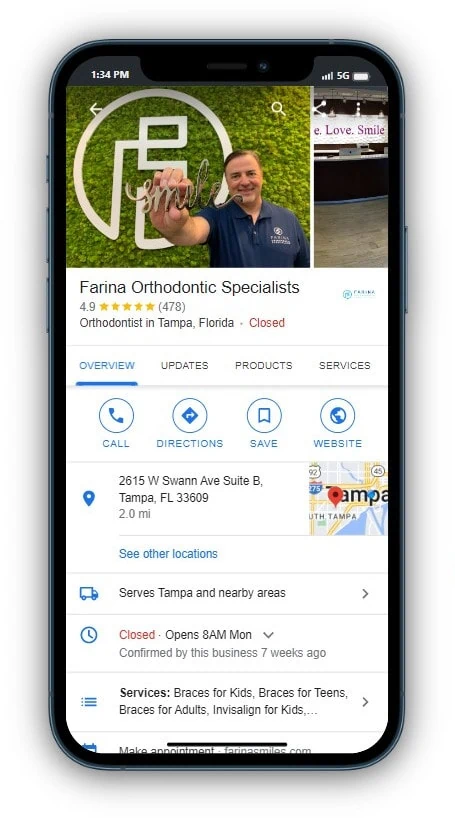 The page gives you a business' essential location and contact information, plus links, reviews, opening hours, and reviews. Visitors can click to get directions, call from their phone, or save or share your page.
And you can use it to post news, updates, or promotions. And you can promote your GBP using Google Ads to get your profile placed above the competitors in your market.
Why is a Google Business Profile Important for Orthodontists?
Google Business Profile is the secret to dominating the local search portion of orthodontics marketing. And here's why…
Imagine it is Tuesday afternoon, and your ideal client opens up Google Maps and searches for "orthodontist near me."
Something like this will pop up: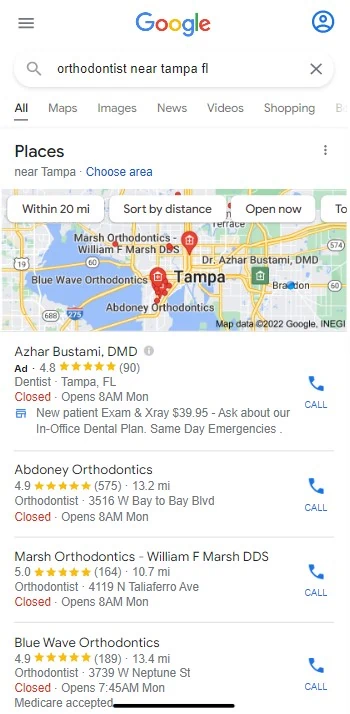 All of those businesses you see listed are Google Business Profiles. So if you don't have a profile, your potential patient can't find you.
Even if your patient searches through a browser and not Maps, the first website listings are more than halfway down the page, after ads, Google Business Profile, and FAQs. So even if your website has the #1 rank for on-site SEO, you'd still be mostly invisible.
That's why Google Business Profiles—specifically, the TOP 3 positions on the "Map Pack"—are the only game in town for local orthodontics SEO.
The bonus? GBP pages make it easy for patients to choose you now—they can see patient reviews, location, hours, and your current promotions. And they can even call you with the click of a button.
Between giving you more exposure and making it easy for customers to find and contact you, GBP can be a game-changer for your orthodontics marketing. And now we'll show you how to set up your GBP page to make your orthodontics SEO shoot up the charts.
6 Steps to A Winning Google Business Profile
Now that we've established why you need an oustanding GBP, let's talk about how to do it. Follow these 6 steps, and you'll be well on your way!
1. Claim Your Google Business Profile page
Unlike its predecessor Google My Business, you can claim and edit your Google Business Profile page right from a Google search. You don't need a separate app.
If you don't already have access to your page, search for your business and claim ownership by looking for the "Claim This Business" link on the existing profile. You'll need to either create a Google account or use an existing one to claim your GBP.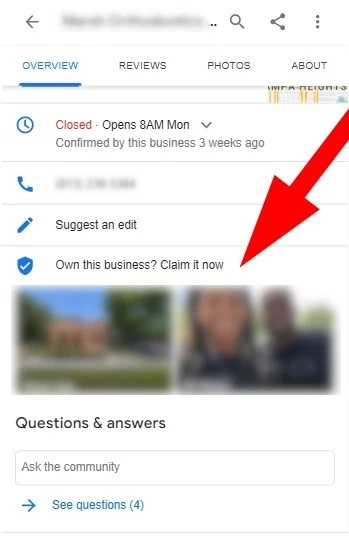 If your business profile doesn't exist, you'll need to create it. Google provides step-by-step instructions for both scenarios here: https://support.google.com/business/answer/2911778
2. Create An Accurate Profile
Besides claiming your account, the most important thing you can do for your GBP page is to enter accurate and reliable information so that people can find you and contact you.
In a recent study, 63% of consumers said incorrect information would stop them from choosing your business. So your info must be current and accurate. Here are some tips:
You'll be asked to select a business category, so be sure to choose orthodontics to ensure you show up in the right searches.
Use your legal business name for the address rather than trying to force in an SEO keyword. Google values accuracy and will penalize you.
Create an accurate description that emphasizes why visitors should choose orthodontics practice over competitors
Post accurate contact information, including a phone number.
Use your conversion-optimized website as your website address, rather than a Facebook page or social media profile.
Update your opening hours and include holidays so patients know when they can reach you.
If your hours aren't updated, or your contact info is incorrect, potential patients won't do the extra work to chase you down. Instead, they'll assume your business isn't reliable and choose an orthodontist across town.
PRO TIP: If you have multiple locations, you'll need to set up individual pages for each location. However, if they are all hosted under a single Google account (recommended), then you'll continue to manage them through a Google Business Profile App similar to the discontinued Google My Business app.
3. Upload High-Quality Photos
The photos on your Google Business Profile will be the first impression most patients get of your business. So you want them to be warm, welcoming, and even exciting. They should get the sense that your office is a place they'll feel comfortable and cared for.
Professional photos of your team and happy patients work well. You may want some pictures of your office, but try to refrain from boring photos of the storefront or empty waiting rooms. Instead, add some life to photos by putting patients or team members in them—and be sure everyone is showing off a welcoming smile!
4. Seek Out and Reply to Google Reviews
One study showed that 91% of 18-34-year-olds say that they trust online reviews as much as a personal recommendation—that's powerful. So you should do all you can to get your patients to leave you sparkling reviews like the ones you see in the screenshot below..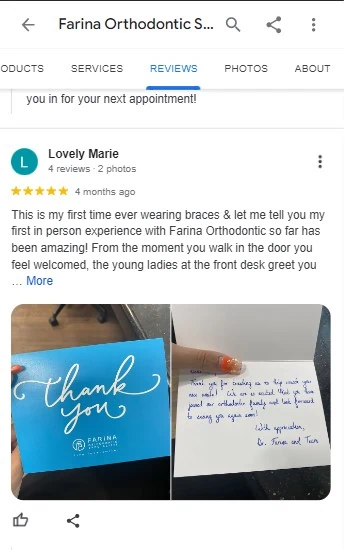 Here are some tips for getting more reviews:
Ask patients to review you after each appointment
Include your Google review link on appointment cards and business cards (see how to get your short link here)
Send an automated email or text message the day after an appointment, asking kindly for a review
Share their pictures on your social media pages to create a sense of mutual appreciation
You'll inevitably get the occasional bad review since research shows unhappy customers are 2 to 3 times more likely to leave a review than happy ones. But there are 2 ways to combat this:
Get EVEN MORE good reviews! Research shows that the businesses with more Google reviews tend to have higher overall ratings. This isn't by accident—these businesses do a great job of encouraging happy customers to leave reviews. And all those positive reviews drown out the bad ones!
REPLY to all your reviews, good and bad. Up to 89% of people read businesses' replies to online reviews. And people are more forgiving of bad reviews when they see that the business owner took the time and energy to address the specific complaints of unhappy customers.But you should reply to positive reviews too!

Your patients and potential patients will appreciate that you care enough to respond. It shows that you are engaged and proves your patients' positive opinions about you.
Google ratings are extremely competitive in the orthodontics space. In many industries, 4+ stars are enough to keep you from losing business. But in the city of Tampa, 17 of the top 20 ranking Google orthodontist listings have an average rating of 4.7 or above!
So you need to be on top of your customer reviews on Google, or you won't be truly competitive for new orthodontics patients in your market!
Can You Book Orthodontics Appointments Through Google Business Profile?
Currently, Google doesn't offer appointment booking options for businesses that must comply with HIPAA requirements. But they are testing a pilot program with a few select healthcare providers. So it's possible that soon your potential patients could be booking appointments directly through your Google Business Profile, so keep an eye out for updates from Google!
5. Post Updates, News & Promotions
One of the biggest mistakes orthodontists make with Google Business Profile is to set it and forget it. But Google's ranking algorithms love fresh content, and updating and posting to your page consistently will keep your patients informed.
Ensure your information is accurate and updated. So if anything changes—like holiday hours or you move across the street—update your listing immediately.
But beyond urgent updates, Google Business Profile lets you post updates to your profile to keep your patients informed about anything happening in your business. Use the posts function to share:
Announcements about general information, new locations, doctors, or changes to your operating hours
Special offers or limited-time promotions
New product offerings or services
Include professional photos and a short, to-the-point message. Only the first 10 words or so will show before users click to see more, so try to share some value in the first sentence. Finally, include a call-to-action, like a link for them to click to schedule an appointment or learn more.
6. Track Your Google Business Profile Performance
You won't have to guess if your Google Business Profile is working for your orthodontics practice because Google gives you the hard data to know for sure.
You'll get detailed statistics on:
Phone calls to your practice from clicks on your profile
Searches for your practice
Views of your practice
New reviews of your practice
How many times your practice is viewed on Google Maps
Number of times patients requested directions to your practice
Number of views of photos on your profile
You'll be able to track your progress across time to see how your performance increases as you become the top choice for new orthodontic patient searches.
Google Business Profile Is Just One Part Of A Winning Orthodontics SEO Strategy
Optimizing your Google Business Profile is the place to start if you're serious about being the top-ranked orthodontics practice in Google searches. But you can't stop there.
Your entire online presence needs to be optimized for maximum exposure so that you always appear at the top of orthodontic SEO searches in your market. That means a world-class GBP page, a fast and conversion-optimized website, and consistency across all online profiles.
HIP Creative has helped dozens of orthodontic practices master SEO to become the first-choice orthodontists in their markets. When we worked with Dr. Jennifer Eisenhuth of Dr. Jennifer Orthodontics in Minnesota, we produced these incredible orthodontic SEO results:
129% Increase in Time On-Site
158% Boost in Page Views
64% Decrease in Bounce Rate
221% More Organic Conversions (558 Compared to 171)
17% Revenue Growth!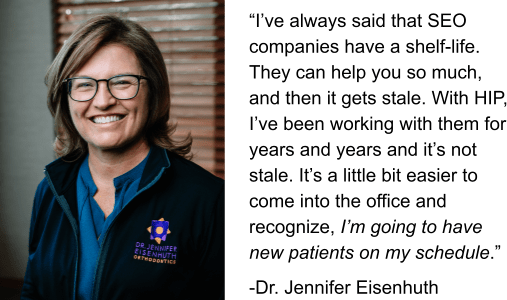 If you're looking for an orthodontic marketing partner to help you create fast and sustainable growth, visit our SEO Services page to see how we can help you be the most visible orthodontics practice in your market!