Growing an orthodontic practice in 2023 (or beyond) will be nearly impossible without orthodontic marketing software.
Gone are the days when you could rely on doctor referrals and brand marketing to drive consistent and predictable growth. The shopping patterns, expectations, and preferences of patients have changed. And you need to change with them.
The only way to create consistent, aggressive growth for your orthodontics practice is to capitalize on digital marketing. But digital new patient leads are a different beast than traditional referral leads—they expect immediate follow-up, consistent communication, and convenient practices. Rather than adapting to how you work, they expect your practice to adapt to their style of life.
You need to overhaul your follow-up practices, improve your communication, and learn to track the profitability of your marketing campaigns to identify the biggest opportunities. This means that to consistently and profitably scale an orthodontics practice in today's market, you're going to need to rely on software to help you do it.
What Is Orthodontic Marketing Software?
Orthodontic marketing software can be a force multiplier that empowers your team to take your growth to the next level. It can automate repetitive tasks and implement best practices to increase revenue, boost ROI, and even help convert more leads into new patients.
Of course, various types of marketing software could help your orthodontics practice achieve its goals. For example, social media apps can help create and manage marketing campaigns. Email providers can do the same thing for your email campaigns. And simple graphic design tools can create eye-catching graphic elements to boost the visual appeal of your promotional materials.
These are all great, but one essential piece of software helps drive sales by taking your customer service, marketing, and sales to the next level. It's called a CRM.
What Is A Customer Relationship Manager (CRM)?
A Customer Relationship Manager (CRM) is software designed to track all your leads and patients, consolidating the efforts of sales and marketing teams into one platform. A CRM takes a lot of things that used to be stored in various spreadsheets, databases, or physical files—like contact information, communication history, project status, and more—and consolidates them into a single place your entire team can access.
A CRM lets everyone on your team see the status of current leads. And it assures that no lead ever goes missing because they're all stored in the same system. It also puts all communication with potential patients in one place so that you won't annoy customers with duplicate calls.
Your CRM is a powerful tool for improving customer service, marketing, and sales. But its real power is in helping you amplify the results you get from your marketing to multiply the profitability of those efforts.
How Can CRM Software Help Your Orthodontic Practice?
A CRM can help your orthodontic office execute ideal follow-up practices for your leads that would be impossible for a human to execute. It can organize your leads for you to make sure nobody is duplicating phone calls while ensuring no leads get lost or misplaced. All of this saves you time and eliminates confusion. It can even track your advertising spending to show your return on investment (ROI). All of this will help you start more patients as a result.
But…if you want to get the most out of a CRM, you need software optimized to serve the needs of an orthodontics practice.
What Is The Best CRM For Orthodontists?
In the past, CRMs couldn't meet the unique challenges of orthodontic practices. Instead, you could find a cookie-cutter, one-size-fits-most CRM that works for everything from car dealerships to real estate agencies. And while a generic CRM can help, it doesn't solve all the problems an orthodontic office faces.
But now there is an answer—PracticeBeacon is a CRM designed specifically to help orthodontists start more patients.
The software was developed working side-by-side with top eight-figure orthodontic practices around the country. And it can help any orthodontist replicate the patient-closing strategies of the best practices in the country. With the help of Practice Beacon, you can solve issues with your sales process that you didn't even know you had.
Let's take a look at why PracticeBeacon is the orthodontic marketing software that puts the expertise of a full-time marketing consultant at your fingertips.
Why Is PracticeBeacon The #1 Orthodontic Marketing Software?
PracticBeacon is a virtual front desk that's always open, optimized, and efficient, responding to digital leads day or night. If that were all PracticeBeacon did, it would be a worthwhile investment for any practice…but PracticeBeacon does so much more.
Here are just some of the ways that PracticeBeacon can revolutionize the way your front desk does business:
Automate The Ideal Follow-Up Schedule to Book More Consults From Digital Leads
Digital leads require a response as fast as the internet itself. A Harvard Business Review study showed that if you don't respond to a digital lead within the first five minutes, your odds of ever reaching them drop by 10 times!
PracticeBeacon helps you connect with up to 400% more leads by sending an initial response within 30 seconds. PracticeBeacon then automates 6+ touch points, replicating the follow-up schedule that the top practices in the country use to drive millions of dollars of growth annually.
Messages and sending schedules are entirely customizable, so you can use them as-is or tailor them to fit your brand.
PracticeBeacon can even initiate phone calls during your business hours, connecting your scheduling coordinator to your future patient when new leads come through.
Keep Your Conversations Organized To Guarantee Flawless Follow-Up
Fast communication is the key to getting potential patients to stop comparison shopping and book an exam.
The "Conversations" tab in Practice Beacon puts all communication with your new leads on one page. There is an in-app text messaging, email, phone, and social media on one screen, so there's no need to switch apps or windows.
Practice Beacon also includes an onsite chat widget so you can chat with prospects who may be learning about your practice for the first time. Your prospective patients can ask questions, get responses, and even book appointments without ever leaving your website!
PracticeBeacon keeps everyone on the same page with reminders to make sure phone calls and other touchpoints are executed without fail. And the software keeps a detailed record of every interaction, even recording phone calls made through the platform, so nobody forgets what was said, making lost Post-It notes a thing of the past.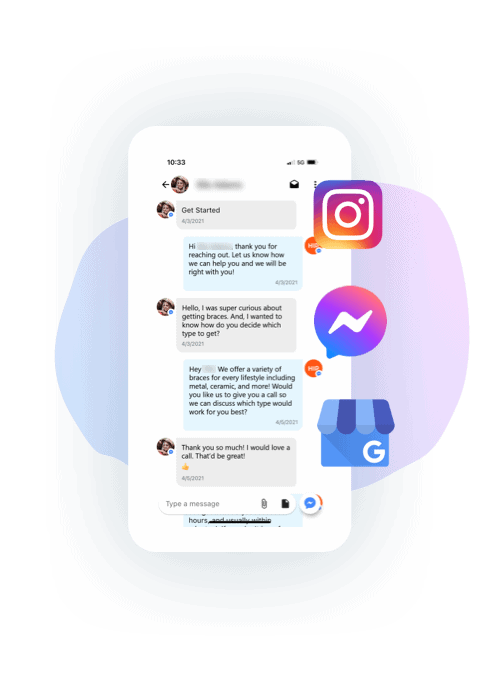 See Where Every Lead Is At Every Moment To Keep Them On The Path To Treatment
Treat your leads like valued patients from the very first contact. With Practice Beacon's "Opportunities" tab, you can see where every potential patient is on their journey to ensure nobody is forgotten. You'll watch as each patient moves through your funnel, from a smartphone click to a phone call, to a consultation, to their final destination: starting life-changing treatment at your practice.
But what about after their consultation? Pending patients have a way of falling through the cracks. They get stuffed in a spreadsheet somewhere, and if you're lucky, somebody remembers to give them a follow-up call.
PracticeBeacon makes it easier than ever to convert patients after their visit. You'll see which prospective patients are still deciding after a consultation, and find the patients who are not ready for treatment yet so you can monitor their progress until they are.
Keep An Eye On Your Team (Without Looking Over Their Shoulder)
PracticeBeacon has given you the roadmap to convert more leads into patients, but it's no good if nobody follows it. That's why PracticeBeacon features built-in accountability for you and your team.
PracticeBeacon will secretly shop your practice online every month and send a report of the results so you can see just how well your front desk is doing at a glance. You'll see how fast your response times are, how friendly and welcoming everybody is, and ensure your team is following up with every lead. Critically, this process is automated so you don't have to spend your work day hovering over the front desk.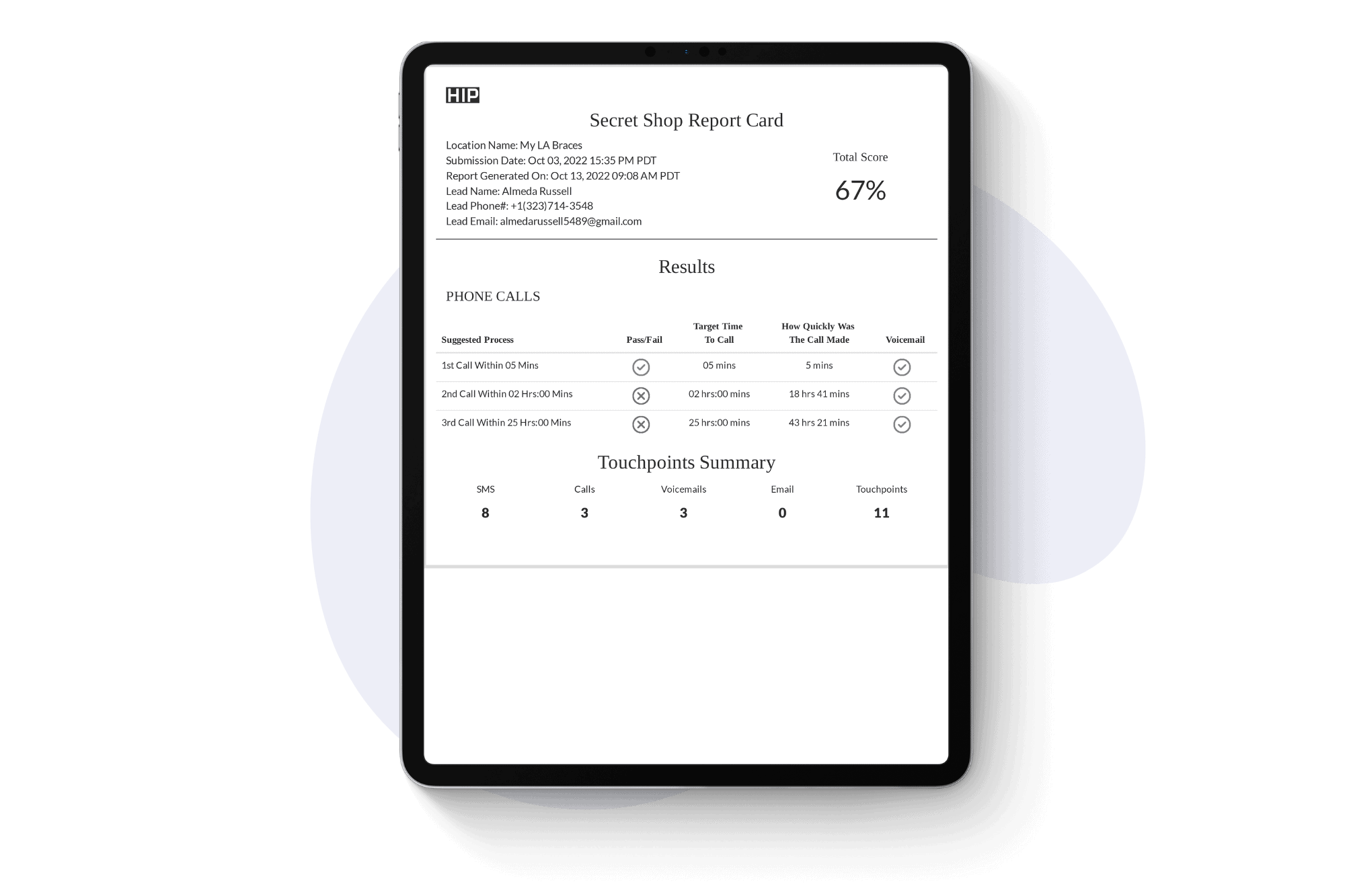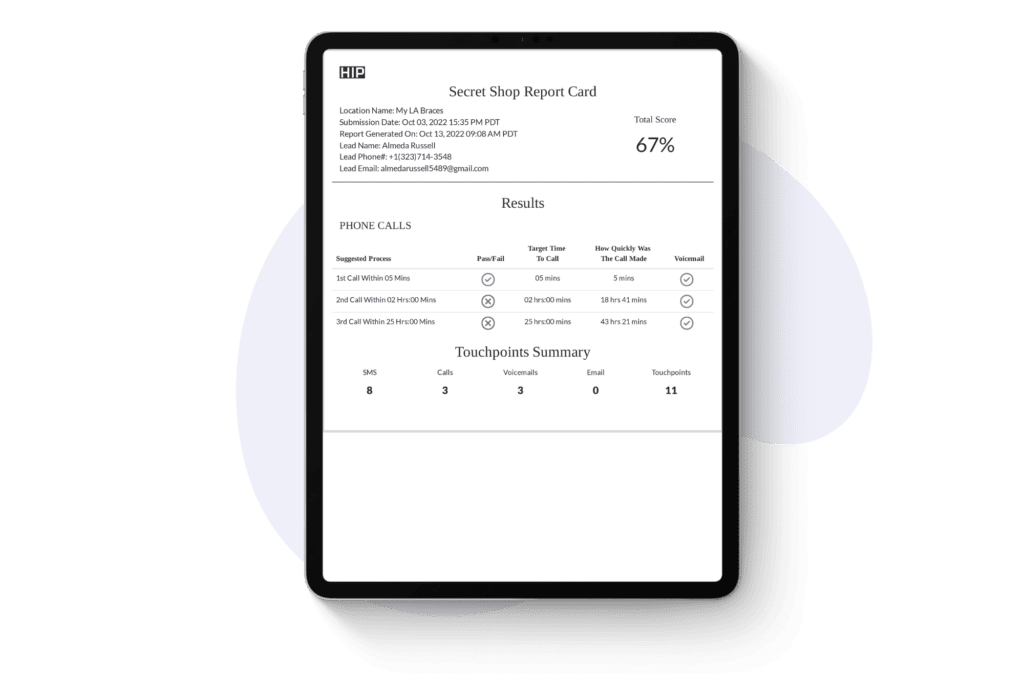 Slash No-shows In No Time With Automated Appointment Reminders
PracticeBeacon leaves nothing to chance with automated appointment reminders, proven to reduce no-shows by 22% all on their own. But guess what? Showing your potential patients that you care helps reduce no-shows better than anything.
Thanks to PracticeBeacon, you've made a great impression on your prospective patients by demonstrating how much their business means to you. You've been communicating with timely texts, emails, and phone calls every step of the way. You always listen and never seem to miss a detail. Now your patients know that you really care because you showed them that you care.
They won't know you had a little help.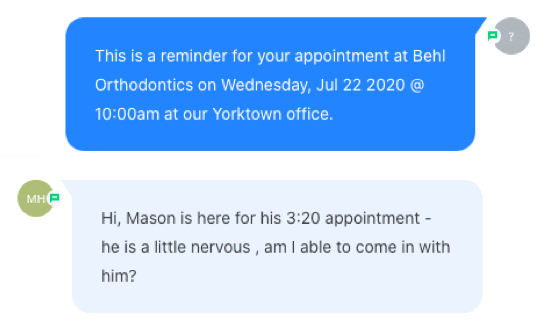 Track Your ROI To Maximize Your Ad Campaigns And Scale Your Growth Quickly
PracticeBeacon tracks your marketing expenses and brings them to you at a glance with a Return on Investment calculator baked in.
Let's say you have an ad on a social media site, and a patient clicks on it. You just paid for that click. You know how much it cost you, so why not find out how much it earned for you?
PracticeBeacon makes it easy to know where that new patient came from, how much it costs you to start them, and how much they spent on treatment at your practice.
Maybe an ad on Facebook doesn't generate as much profit as an ad on Google. That'd be nice to know, right? Because if you knew that, you could double down on your Facebook spend to start even more patients!
PracticeBeacon gives you unprecedented transparency so that you can stretch your advertising dollars further. You can't be smart with your money if you don't have the data. With PracticeBeacon's ROI tracking, you'll know exactly what's going on with each of your ad campaigns.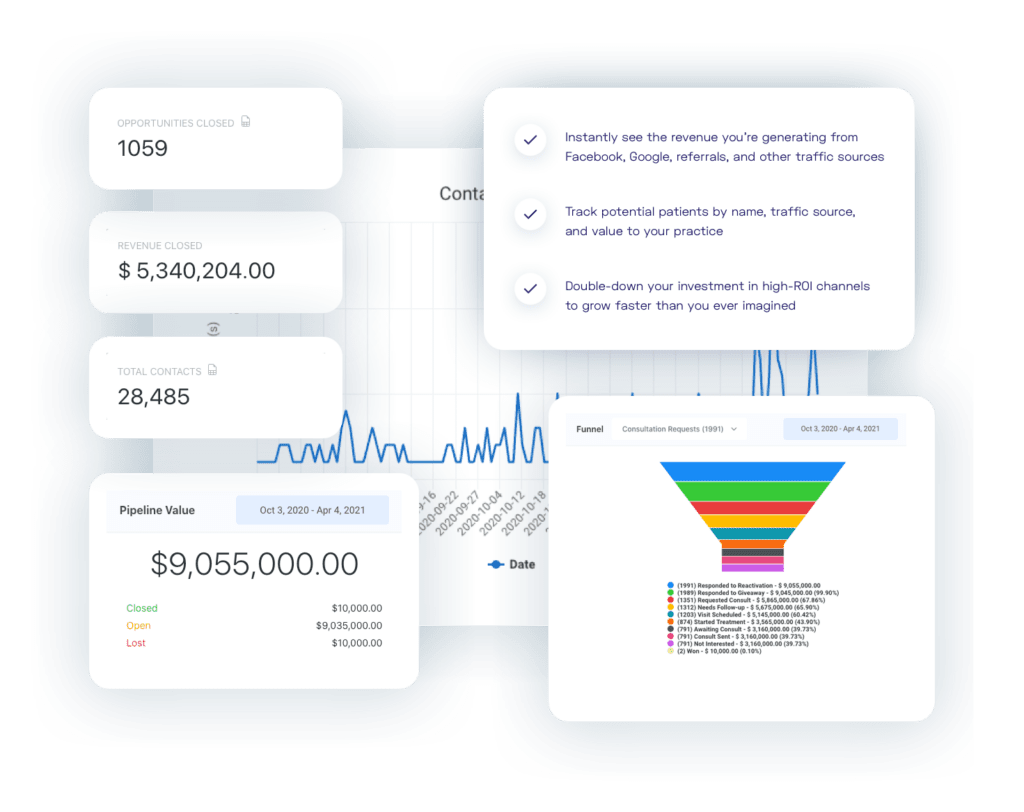 Build A 5-Star Reputation With A Boost From Your Orthodontic Marketing Software
Now that you've exceeded expectations and thrilled your new patients, PracticeBeacon helps you generate 5-star reviews with a review request campaign.
The secret to getting more reviews is to ask! Practice Beacon can help you automate a review-request campaign so that your team doesn't forget. And it also makes the review process quick and easy for your patients.
5-star reviews rank your practice higher on Google local search results, to attract even more patients. PracticeBeacon helps to create a virtuous circle, in which new leads become happy patients who leave 5-star reviews that attract MORE new leads!
You've Got A Blank Space On Your Schedule…PracticeBeacon Fills It With A Name
What is the best orthodontic marketing software for your orthodontic practice?
If you want to scale your practice like the top 1% of orthodontists around the country, PracticeBeacon is a clear choice. The only all-in-one, easy-to-use app that puts the winning formulas of the top practices to work in your office.
What are you waiting for? Click below and schedule a free demo today!