Marketing for orthodontics is more crucial than ever. Just a few years ago, you could build a successful orthodontic practice relying solely on referrals from a few loyal local dentists, but those days are long gone.
As large ortho chains and private equity investors develop increasingly advanced orthodontics marketing strategies, the average orthodontist must evolve their understanding of marketing to keep up.
But there's good news, too—the tools for marketing your orthodontic practices have never been more accessible or easier to use. So follow along for a primer on marketing tactics that will drive your orthodontic practice to the top of your local market.
The 16 Proven Marketing Strategies of Top Orthodontic Practices
For the sake of simplicity, we'll break up the 17 strategies into 4 different groups based on the purpose they serve in your marketing lifecycle.
And stay tuned for a BONUS strategy at the end—it's the one thing most orthodontists miss that will multiply your success.
Strategies to Polish Your Image
1. Create (Or Refresh) an Attention-Grabbing Brand
Before you run out and invest in ads or hire a web designer to redesign your site, start with the basics:
Does your branding stand out from the competition?
Does it reflect quality?
Does it inspire trust?
Would YOU book an appointment with your practice?
Your logo, colors, and signage are your first impression on the world, so they must make an impression. If your branding doesn't reflect the quality you'll never succeed in attracting the type of patients you need to grow or charge the prices you need to make a profit.
Given the stakes, hiring a proven branding company to build an image you're proud of is a no-brainer. Without a quality brand, the other 16 items on this list will be much less effective.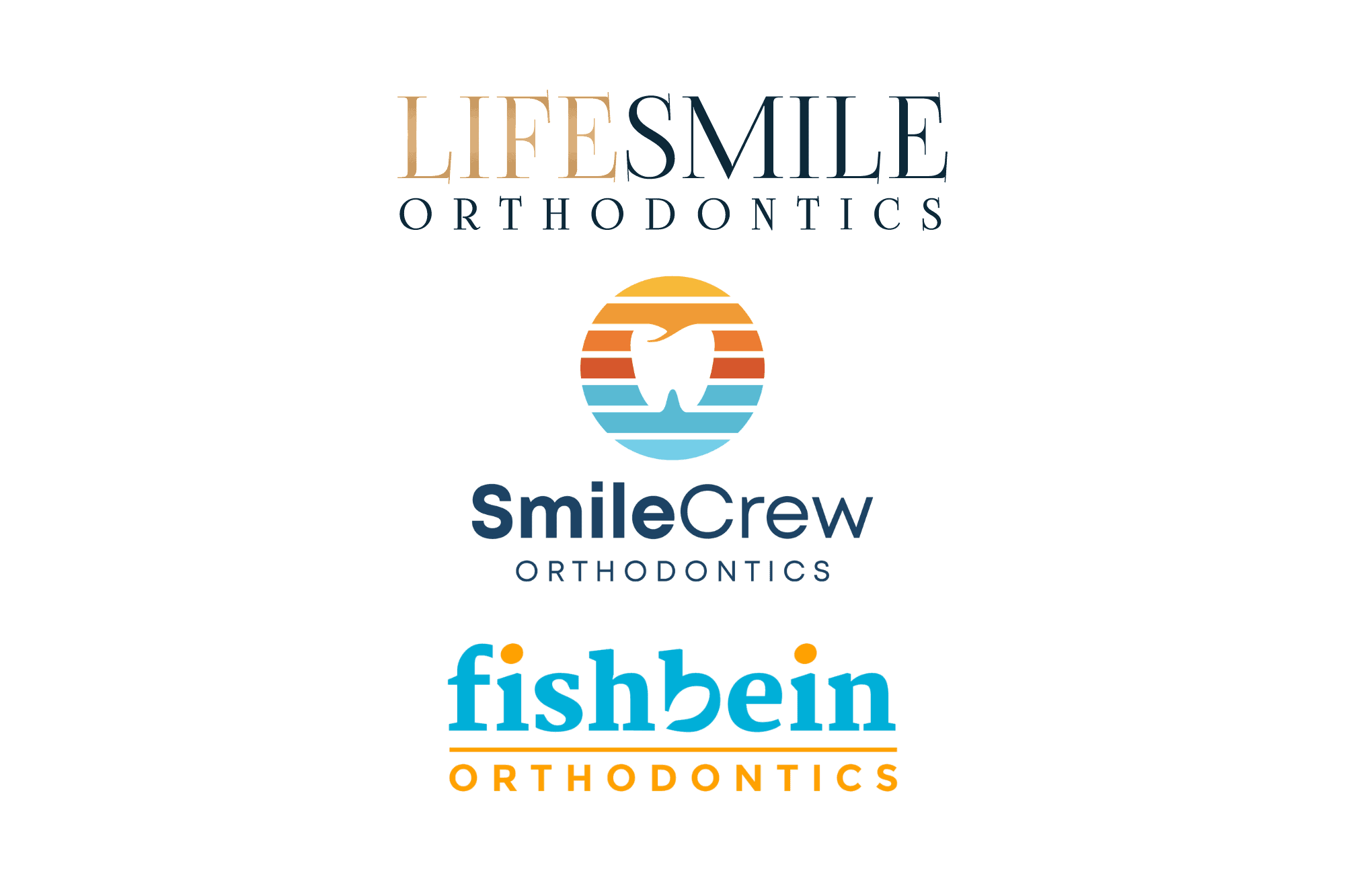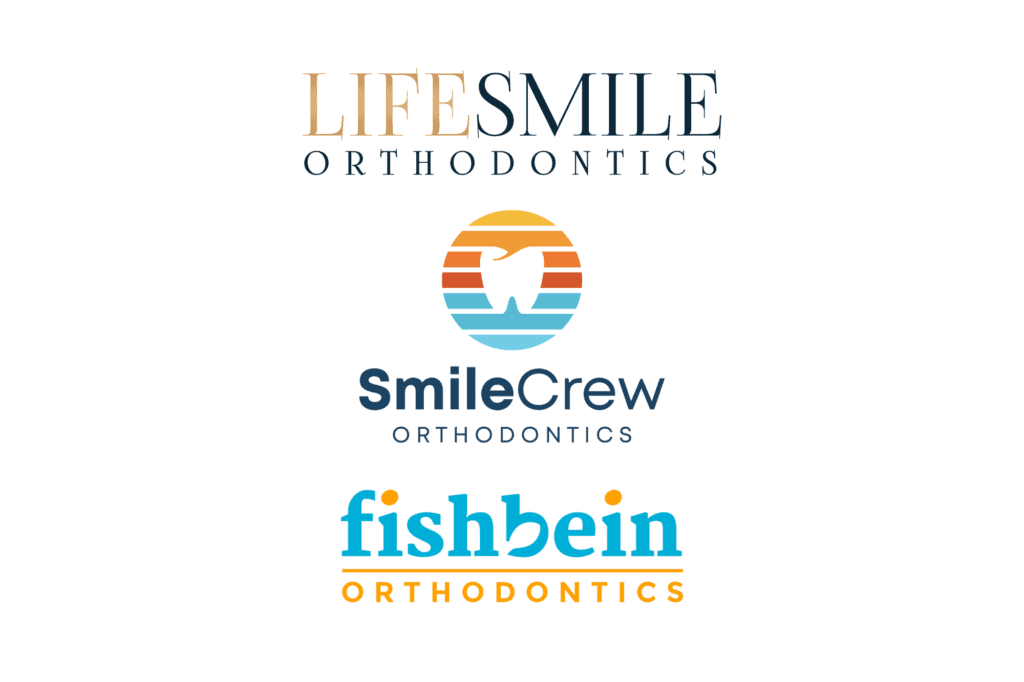 Your brand should be unique and reflect your personality, audience, and values.
2. Build a User-Friendly and Mobile-First Website
Your website is the brand's online home, which means it's another extension of your physical office. It must look great, capture attention, build trust, and drive conversions. But that's not enough…
It's essential you make your site easy to use and optimize it for use on mobile devices. Unfortunately, most websites built a few years ago don't provide an optimal smartphone or tablet experience, which is a significant problem.
Over 50% of all web traffic comes from mobile users, which can be even higher for many local businesses, like orthodontists. So if your website doesn't provide an excellent mobile experience, you risk losing the new patients you need to grow.
Pro-Tip: Use an online booking plug-in to let new patients book a consultation directly on your website to make it easy for them to get started.
3. Engage with Patients and the Community on Social Media
Social media serves many purposes in your orthodontic marketing plan and can help you attract and convert more patients. But ultimately, your social media presence is yet another place to build your brand's public image.
By engaging with your patients on social media and sharing their happy post-treatment photos, you get free exposure to their network. And many people's first impression of your brand will be a post someone shares on Facebook or Instagram.
You should keep all your branding and contact information updated and accurate and post new content weekly. Being active and engaged online helps build confidence with potential patients.
ProTip: Try running a contest or giveaway through your Facebook or Instagram site. It creates goodwill with the community and multiplies your engagement on an average post.
4. Use Videos in Your Marketing
They say a picture is worth a thousand words…so imagine what a video is worth!
High-quality videos transport potential patients inside your practice in a way that words and photos will never replicate. It helps build trust and intimacy with potential patients and gets them excited to come in and join in the experience.
You can incorporate an HD office tour to your website, record video testimonials, or introduce yourself or your team. It's a great way to build your brand.
Plus, 66% of consumers find short-form videos the most engaging content on social media. So you can share your videos across your channels to create even more engagement!
Strategies to Attract More Traffic
5. Optimize Your Website for SEO
Even if your website doesn't need a redesign (especially if it does), you should ensure your orthodontic website is optimized to receive the most possible search traffic. Optimizing your website to appear in search results is called Search Engine Optimization, or SEO.
We wrote the guide on SEO for orthodontists, so we won't get into too much detail here. But you can do some simple things—like choosing the correct keywords, using the proper headers, and focusing on local SEO—to quickly and easily help your practice rise to the top of Google's search rankings in your area.
6. Optimize Your Google Business Profile
Do you recognize this little overview that pops up when you search for a business on Google search or Google Maps?
That's called a Google Business Profile, and it's free to claim and set up if you haven't done it already. However, even if you've already claimed yours, there are several simple things you can do to make it more effective, like:
Make sure all your information (including operating hours) is accurate and updated regularly
Upload high-quality photos of the interior and exterior of  your office, as well as of the staff and some happy patients (with their permission, of course!)
Post updates with special promotions, events, or new products
Encourage patients to leave reviews and reply to each one individually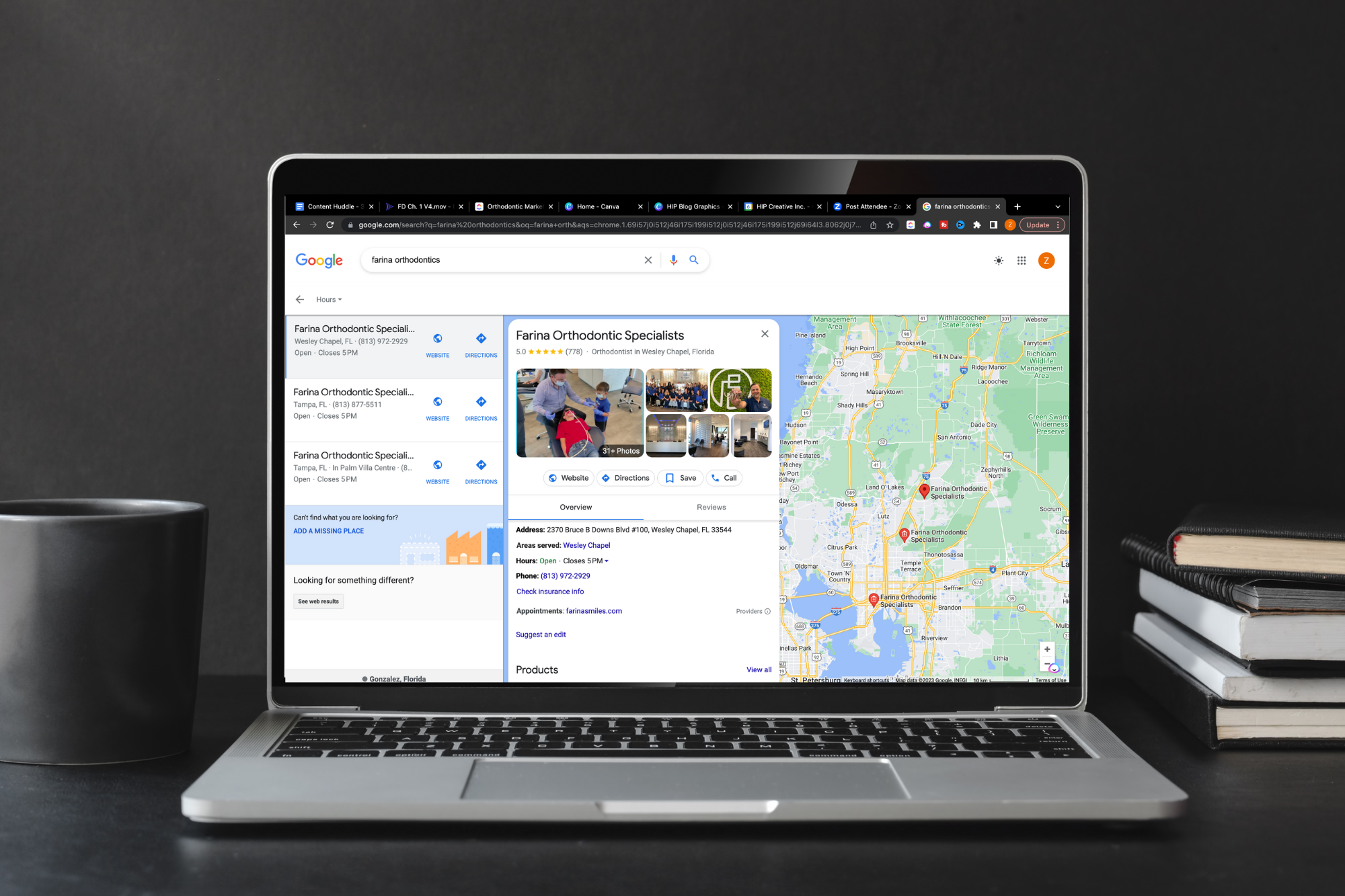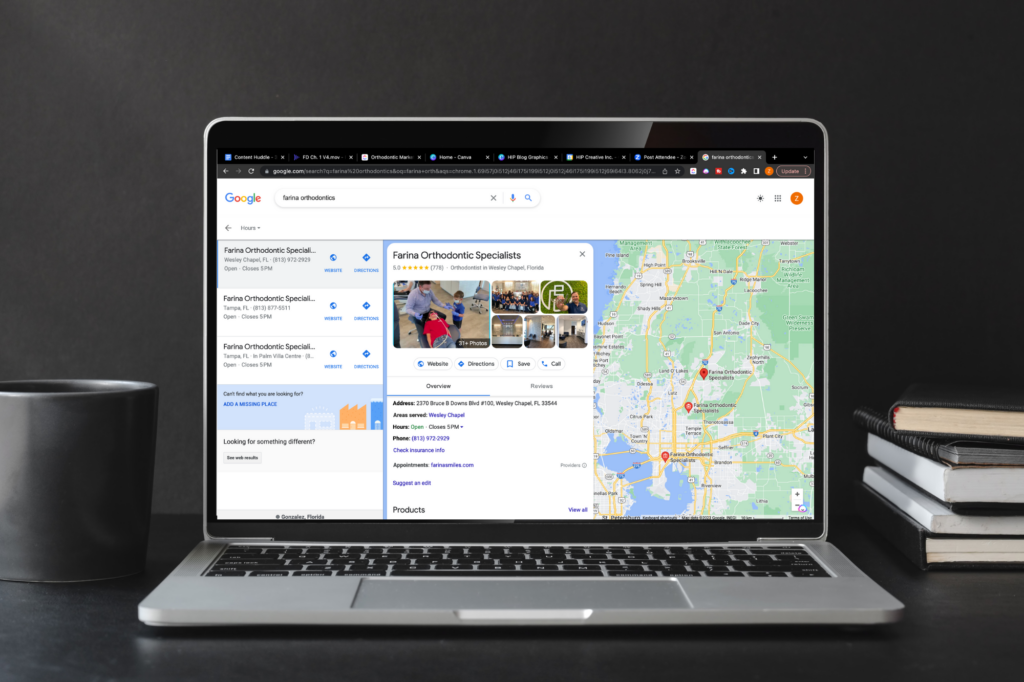 Click here for more tips on optimizing your Google Business Profile!
7. Run Paid Online Ad Campaigns
Paid ad campaigns are a highly profitable orthodontic marketing strategy when executed correctly. You can run search ads on Google or leverage social media networks like Facebook and Instagram to target ads to your ideal patients.
You can run ads for yourself, but a proven marketing agency for orthodontic practices will save you time and money. They can share proven ad concepts working for other practices and recommend ad-buying strategies to maximize your investment.
Social media ads must be a part of any rapid-growth marketing plan for orthodontics, but it is easy to lose money too. That's why we recommend going with a pro.
Pro-Tip: Use retargeting, or remarketing, campaigns that utilize tracking cookies to deliver ads only to people who have previously interacted with your website or social media pages. These campaigns are incredibly effective and relatively inexpensive compared to more broadly targeted campaigns.
8. Write Informative and Compelling Blog Content
Creating a blog on your website helps to boost your search visibility and gives more credibility to your brand. Here are a few strategies for creating a blog that gets visitors:
Write in a normal conversational voice that's easy for anyone to understand. Use simple language, short sentences, and short paragraphs.
Use catchy, clickable headlines that will grab attention
Share your content with your email list or on your social media channels
Create blog articles that answer common questions your patients ask because if they're asking you, then they are probably searching online too
Do some keyword research to find topics that your patients might be searching for
Incorporate video content into your blogs and include a written transcript of the video so that it's searchable (this content can be shared on social and posted to YouTube, too, so one piece of content can serve three purposes!)
9. Partner with Local Businesses, Schools, or Sports Teams
Creating local alliances is a great way to boost your orthodontic marketing strategy in the local community. Whether it's getting referrals from a local dentist or just networking with local business people, many people in your community can send business your way.
And, of course, participating in school events or sponsoring an event is a great way to get your orthodontic practice in peoples' minds. Or you can sponsor a local Little League or youth soccer team.
Your brand should be everywhere in the local community, especially where families spend time with their children!
10. Host Events, Contests, and Giveaways
In-person events, whether at your office or a local festival, are a great way to engage with your community and drive new patients to your practice. When you combine physical presence with a contest or a giveaway—like a free Invisalign treatment to one lucky patient— you can create a lot of buzz that leads to more consultations and new patient starts.
11. Collaborate with Local Bloggers or Social Media Influencers
We live in a digital world, and people now listen to and respect online voices more than ever. Influencers, bloggers, and vloggers have huge audiences that hang on their every word and post.
If you can find an influencer with a pull in your community, there could be real value in creating a partnership. For example, you can set up a referral commission for them or offer a monthly payment to post about your practice. Or you can offer them a service discount and get them to post about their treatment experience.
Not every influencer is worth an investment from your practice. But if their audience and brand align with yours, it could be a significant opportunity to drive more patients through your door.
Strategies to Book More Orthodontic Consultations
So far, we've focused on building your brand and attracting more eyes to your business. But your job isn't done once you've got their attention.
So here are 3 more marketing strategies for orthodontic practices focused on getting patients into your chair:
12. Offer Free Consultations
It may seem obvious to some of you, but we can't stress how important it is to offer and promote free consultations. To start patients, you first need to get them to your office; a free consultation is the #1 tool you have to do that.
Starting patients is simply a numbers game. The average orthodontic practice converts around 50% of their consults into new patient starts; the best practices convert over 80%. Either way, the more consults you run, the more patients you'll start.
So get over the idea that a free consultation is giving something away. More consults = MORE PATIENTS. It's that simple. So embrace the free consultation and watch your revenue grow!
13. Publish Case Studies and Success Stories
No patient wants to feel like a guinea pig for a new treatment or service. So instead, offer them examples of when you've done similar treatments and show them the life-changing results you achieved for your patients.
If you can get your patients to agree to do a video before-and-after, that's even better. Anything you can do to help potential patients imagine their future transformation will add money to your bottom line.
14. Request Testimonials and Share Them Widely
There's no more potent marketing tool than a happy patient! But if your patients are quietly satisfied, nobody knows. So it's your job to share your patients' stories everywhere you can.
Here are a few ways to get great testimonials and reviews:
Encourage all happy patients to leave reviews on your Google Business Profile. Send email/SMS reminders and include the page URL on your business card and appointment reminder cards
Ask patients to take a picture with your staff…and make sure they smile! Post your happy patients to social media and ask them to share it.
Get video testimonials from ecstatic patients after completing treatment. Have them talk about their transformation and their experience.
Marketing Strategies to Leverage Your Success
Past and current patients are one of the best marketing resources for an orthodontic office. They can help you through testimonials and case studies, and their family and social networks can also become a source of nearly endless leads.
Here are a few tips on using your existing audience to build an even bigger audience:
15. Use Email and Text Message Marketing
Many doctors don't realize that email marketing remains the highest-ROI channel for businesses—returning nearly $40 for every $1 spent.
You should always send notifications of new services, limited-time promotions, and special events to your audience via email and SMS. You might think that existing patients don't need to hear from you; they've completed their treatment, after all.
But many patients might have friends or family members who need treatment. Or they might need some other services you offer—a patient who went to you for Invisalign may now want teeth whitening, for example.
So please don't sleep on your existing or past patients when marketing your orthodontic practice!
16. Implement a Referral Program
We just talked about how powerful your current and former patients can be, so why not reward them for helping you out?
When you implement a referral program, you incentivize your patients to spread the word about your practice. Everybody loves to compete and earn rewards. By offering a discount on future services, you incentivize your patients to tell their friends and help ensure future business simultaneously.
Moms are particularly great targets for a referral program. You can create custom rewards for referring friends, like gift cards, spa days, or even vacations (yes, some moms can bring in enough business to make that a worthwhile investment).
Your Bonus Orthodontic Marketing Strategy
Are you ready for the one marketing secret that could transform the future of your practice?
Here we go…
17. Learn to Turn Leads into Patients
The truth is that 90% of orthodontic failure isn't because of a lack of leads; it's because of broken follow-up practices.
When patients reach out to you and don't hear back right away—or don't hear back ever—you miss out on hundreds of potential patients. And it happens more than you'd think.
If fact, we've studied thousands of orthodontic practices over the past 5 years and found that almost none have follow-up practices that meet the standard of a winning practice. (And most of those practices are doing 8 figures in revenue).
If you want to grow with orthodontic marketing, you need to level up your follow-up and conversion practices first. Or you'll bring in more leads without the skills, tools, and training to turn them into patients.
Get the Framework That Turns Orthodontic Leads into Patients
After working with and studying the nation's best practices—like Fishbein Orthodontics, All Smiles Orthodontics, Dr. Jennifer Orthodontics, and dozens more—we've developed a foolproof formula for growing any orthodontics practice.
It's called Patient Acquisition and Retention Framework (PARF™), and we've used it to grow over 100 orthodontics practices from coast to coast.
If you want to use the proven orthodontic marketing strategies and lead-conversion strategies of the nation's top 1% orthodontic practices, reach out to us today for a free consultation.
We'll show you how to scale your revenue to dominate your local market quickly, sustainably, and profitably.