Dental SEO Guide
To grow your dental practice in 2023 and beyond, you need to ensure patients can easily find you online. But with so many dental practices vying for patients' attention, how can you make sure that your website gets found?
The answer lies in dental SEO, or search engine optimization.
While an omnichannel marketing strategy will help you dominate your market, a strong SEO strategy will make sure that potential patients can find you, organically, when searching for solutions to their problems online. But the world of SEO is constantly changing, so to rank your practice at the top of Google, you'll need to be on top of the trends in dental SEO.
We've got you covered! This ultimate step-by-step guide will cover everything you need to know to optimize your dental website and drive more traffic to your practice in 2023 and beyond.
What Is SEO For Dentists?
SEO, or search engine optimization, is the process of improving your website's ranking in search engines like Google. SEO aims to get your website to the top of the search engine results page (SERP) when people search for terms related to your dental practice.
When your site ranks higher in the SERPs, you become more visible to potential patients, which leads to more website visits and, ultimately, more patients for your dental practice.
PRO TIP: Google controls over 86% of the search market in the USA. So, while there are other search engines, like Bing and Yahoo, you should optimize your site for what performs best on Google to capture the largest share of dental search traffic.
Why Is SEO Important For Dentists?
Dentist SEO is vital for several reasons.
According to one study, 90% of patients search online for a dentist to find a new dentist or to confirm a referral from friends, family, or the community. So if your practice isn't easily visible, you're missing out on potential patients.
And while paid ads can help you boost your visibility, this study showed that nearly 95% of all clicks went to organic search listings in 2022, not to paid ads. So if you're not ranking in the SERPs, then you're not really in the game of competing for new patients.
Finally, ranking higher in search results can boost the credibility of your dental practice in the eyes of potential patients. Seeing you listed first could even be the deciding factor between their choosing your practice or selecting another dentist.
How Much Does Dentist SEO Cost?
The cost of dental SEO can vary depending on the size of your dental practice and the services you need. Some dental practices opt to handle SEO in-house, while others prefer to work with a professional dental SEO agency.
If you don't currently have a dental SEO strategy, you may want to hire an agency or strategist to help you create and implement a plan. You can figure it out independently, but it will take you much longer to get results than working with a pro.
Even with the right strategy, boosting traffic with SEO will often take 6 to 12 months of consistent work. So by the time you've found out your strategy isn't working, you've already wasted valuable time.
Dental SEO can cost anywhere from a few hundred to several thousand dollars per month, depending on the services you need. Be sure to research a potential partner well, check their references, and ask for specific SEO results they've produced for other dentists.
How To Optimize Your Dental Website For SEO
To optimize your dental website for SEO, you'll need to focus on several key areas:
SEO Keyword Research
Researching and identifying the keywords dental patients use in their web searches is essential to optimizing your dental website for SEO. This could be everything from "dentist" to "teeth whitening" to "pediatric dentist downtown Atlanta."
If you're using a search marketing agency, they will conduct dental SEO keyword research for you. But if you're tackling it on your own, you'll want to use a keyword research tool. There are many available, both free and paid, that can help you identify the most popular keywords related to dentistry.
Google's Keyword Planner is designed to help you find the best keywords for paid advertising plans. But because this free tool shows you search volumes for terms and recommends similar keywords and phrases, you can also use it to identify high-volume or highly-targeted keywords related to dentistry to incorporate into your SEO strategy.
Another option is to use a paid competitive analysis tool, like SEMRush or Ahrefs, to find out which keywords and topics your competitors are targeting. These tools usually offer a free trial or low-cost trial period, which may be enough for you to find the SEO keywords that have the most potential for success.
By researching your audience and keywords, you ensure that your content is optimized for search engine rankings and will grab the attention of your target audience—great SEO keyword research results in more traffic to your website and more revenue for your dental practice.
PRO TIP: The key to winning at SEO in the short term is finding opportunities to rank for SEO keywords or SEO phrases that have high volume but low competition. Of course, you'll want to rank for high-volume competitive keywords too, but that may take more time.
On-page Optimization
When it comes to optimizing your web pages, there are a few things you must optimize to ensure your pages rank for the keywords you want to rank for:
Title Tag
The title tag is the page title for SEO purposes. It tells search engines what your page is about. When you appear in a search, your title tag will usually be in the search result, and it also is displayed in the "tab" at the top of your browser: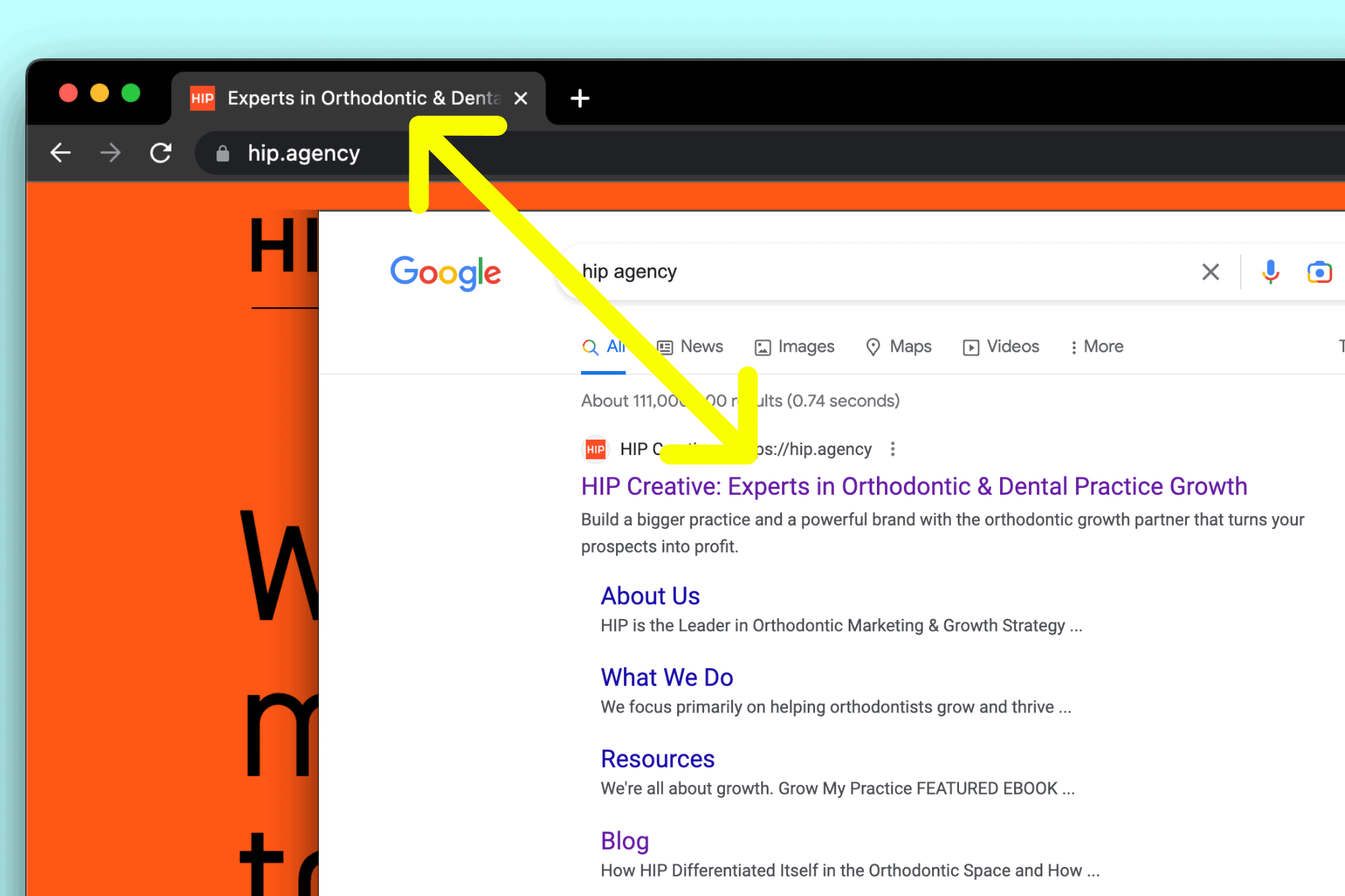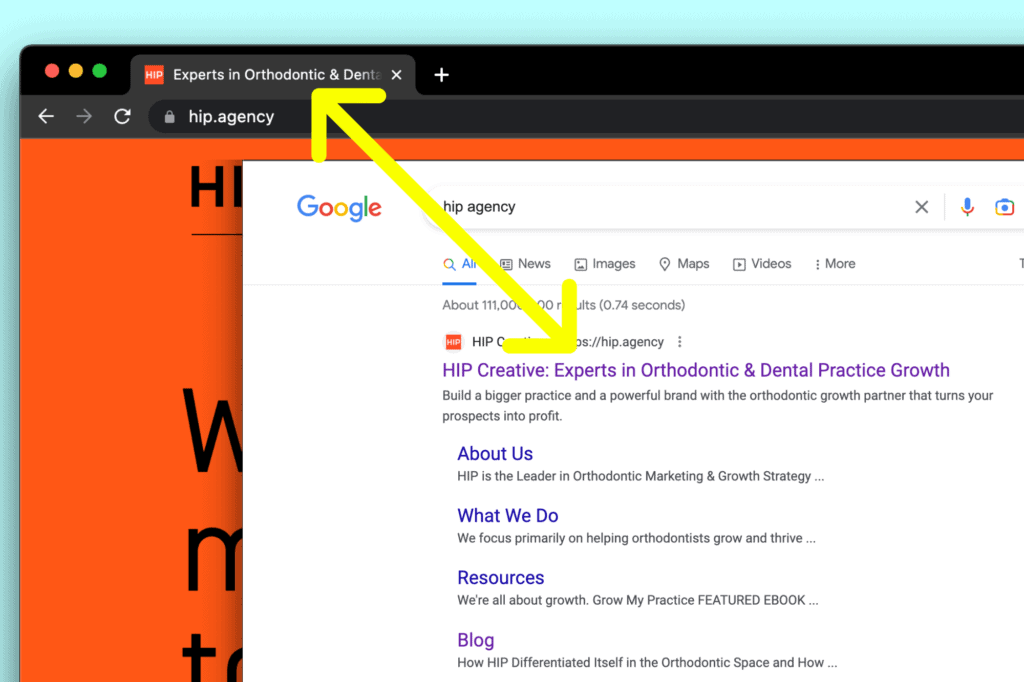 Your title tag indicates to Google's algorithm what your website does and who it is for. Therefore, you should include your most important keywords for the given page in your title tag.
Because the title tag displays in many search results, an optimized title tag will also help your site get more clicks when shown in SERPs by making it clear to searchers how you can help them.
Meta Description
The meta description is a short description of your page that is very important to Google's search algorithm. It expands on the title tag to give more detail about the contents of your page. It's often displayed as a "preview" of your site below the title tag in search results: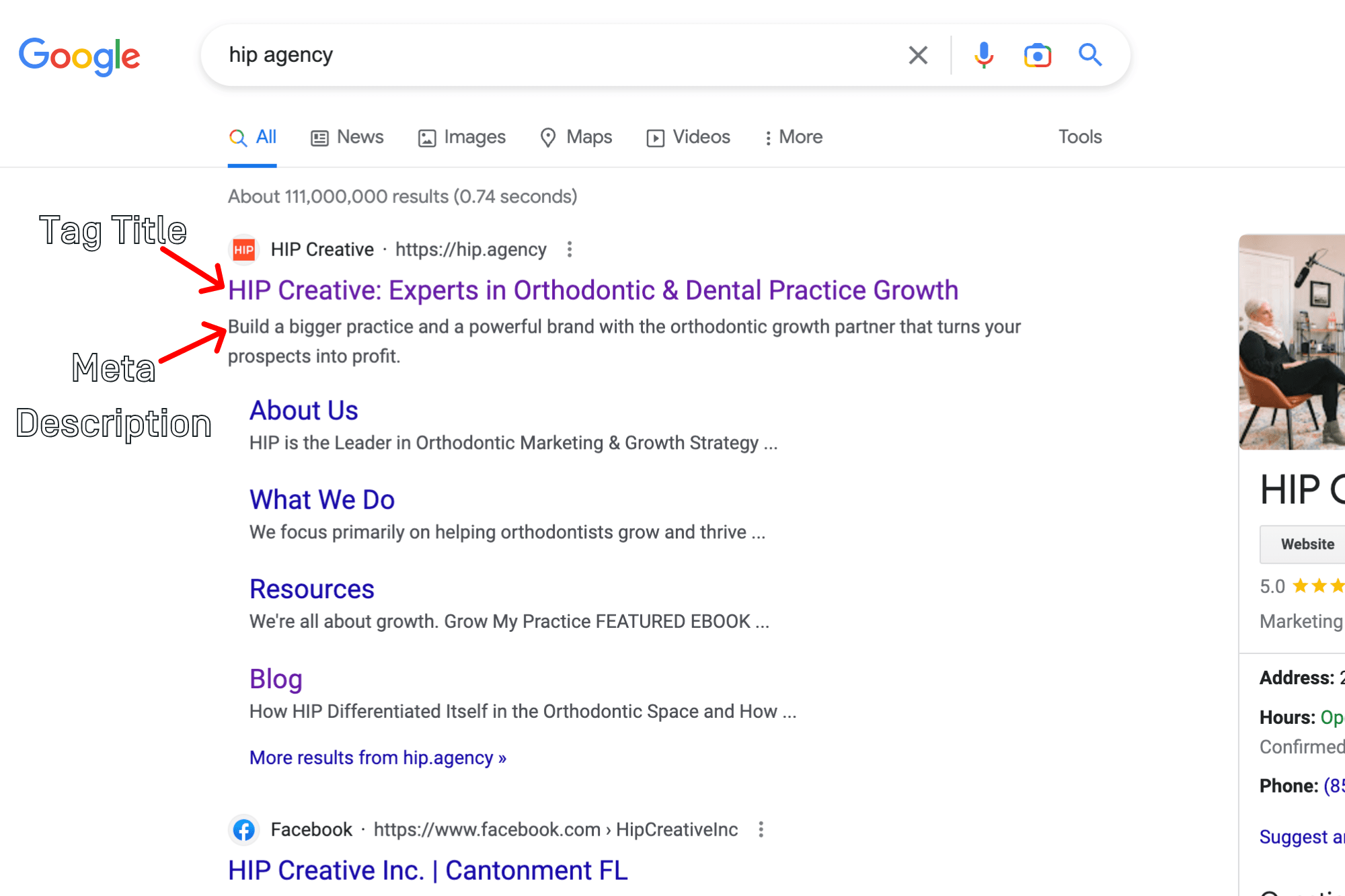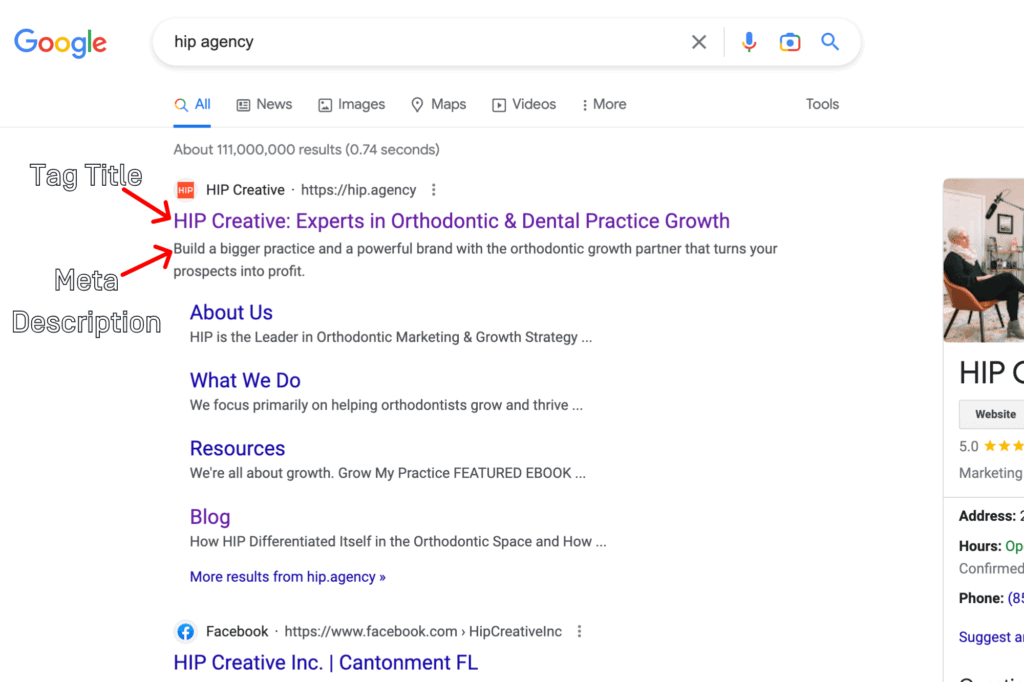 The meta description should always include the focus keyword or keyword phrase for the given page. And it should also be written to give users a clear idea of what's on the page to help generate more clicks on your listing.
Header Tags & Hierarchy
Your design team should assign header tag formatting to the main headline and all subheadlines on your dental web pages. The hierarchy of a webpage is essential for signaling to Google what is the most critical content on your page.
For this reason, you should again include your focus keyword phrase and variations of that phrase in headlines throughout your page.
The headers are organized by order of importance to create a hierarchy on your page— H1, H2, H3, H4, and so on. For example, each page should have only one H1 but can have multiple H2s nested below that H1, multiple H3s below each H2, and so on.
Technical Optimization
Technical SEO includes things like website speed, mobile-friendliness, and website structure. All of these play a role in user experience, as well as in SEO rankings.
Page Speed
Google regularly crawls your webpage to see how quickly your server loads the data to display all the words and images correctly. If your site is too slow, you'll be penalized and never reach the top of the rankings.
Here are a few steps you can take to ensure page speed doesn't sabotage your rankings:
Use a modern, lightweight theme or design by a developer who knows what they're doing
Invest in quality hosting
Use image caching and compressed image and video files to ensure quick load times
Analyze your page speeds on both desktop AND mobile for issues
Use A Mobile-First Strategy
The buzzword here used to be "mobile-ready," but mobile-ready is no longer enough—you must think mobile FIRST when designing or optimizing your site.
Why? Because a recent study showed that 65% of all searches come from mobile devices! If your site doesn't display correctly on mobile phones, you lose over 50% of your potential patients! And that's not all…
Google's crawlers can see if your mobile experience is optimized or not. And they'll penalize your SEO rankings if you're not making things easy on mobile users. So you must ensure your mobile user experience is top-shelf if you want any chance of cracking Google's top 3 search results in 2023 and beyond.
Schema Markup
While many of these tips are things you can teach yourself if you really want to, here's one you should leave to the developers.
Schema markup (schema.org) is a structured data vocabulary that helps search engines understand your website's information to serve rich results. For example, schema can be used to display images, tables, quotations, and lists in a way that web crawlers instantly recognize.
Using markup correctly will make it easy for Google to see your:
Medical specialty
Forms of payment accepted
Insurance accepted
Hours of operation
Slogan
Awards
Address
Phone number
Languages spoken
A list of standard markups is listed at Schema.org. In addition, there are online tools to evaluate your website and recommend ways to add structured data, like the Yoast plugin from WordPress.
Because it is a technical process, you should leave it up to a web developer to implement structured data.
Link Building
For SEO purposes, it's helpful to think of the internet as an interconnected network of websites. And the thing that connects all of those websites is links.
So the more links your website has, the more connected it is to the rest of the internet. Google uses the quantity and quality of links to your website to evaluate how authoritative and trustworthy your website is.
For this reason, one of the most important things you can do for your dental SEO is to build high-quality backlinks. Backlinks are links from other websites that point back to your website.
The more high-quality backlinks you have pointing back to your website, the more authoritative your website will appear to search engines, improving your SERP rankings.
To build high-quality backlinks, you can reach out to other websites in your niche and ask them to link back to your website. You can also create high-quality content that others will naturally want to link to, like blog articles, ebooks, and video content.
Why Local SEO Matters Most For Dentists
If you're trying to start an e-commerce company or an online consultancy, you'll want to rank everywhere in the top spots for your focus keywords. But as a dentist, your SEO focus is more narrow.
If you're located in Dallas, it doesn't do you any good to be listed in the top spot for someone searching for dentists in Chicago. You simply need to dominate the search results in your local market.
You'll want to optimize your website for local keywords, like "best dentist Dallas" and "teeth whitening Dallas." If you focus on specific neighborhoods, you may even want to create individual landing pages for each community or town you serve. That way, Google may display your results to searchers in those areas.
Also, you can submit your website to local online directories and try to get backlinks from other local businesses. Anything you can do to signal to Google that you're important in your local area may make a difference.
But there's one thing you must do above all else if you want to dominate local SEO—optimize your Google Business Profile.
Optimize Your Dentist Google Business Profile To Win At Local SEO
You know that little box that pops up with a company's name, reviews, and photos when searching on Google or Google Maps? That's called a Google Business Profile (GBP).
Hopefully, you've already claimed yours. But if not, you need to do so right now.
Your GBP might be the most powerful tool online for helping local patients find your practice. Here are some tips for optimizing your Google My Business profile. It is displayed in search results on both Google Search and Google Maps, and because it includes photos and other information, it draws a lot of attention to your business.
Here's how to maximize your GBP to get more patients from local search:
Complete Your Profile
Make sure to fill out all the information on your profile, including your practice name, address, phone number, and website. Then, update your data regularly and be sure everything, including your opening hours, is accurate. Inaccurate information can frustrate potential patients and, if reported to Google, may negatively impact your search visibility.Add Great Pictures:
They say a picture is worth a thousand words, so add high-quality photos of your practice, including photos of your team, your office, and successful treatments, to your GBP. Focus on happy pictures of satisfied patients—people want to be able to imagine themselves getting the same results.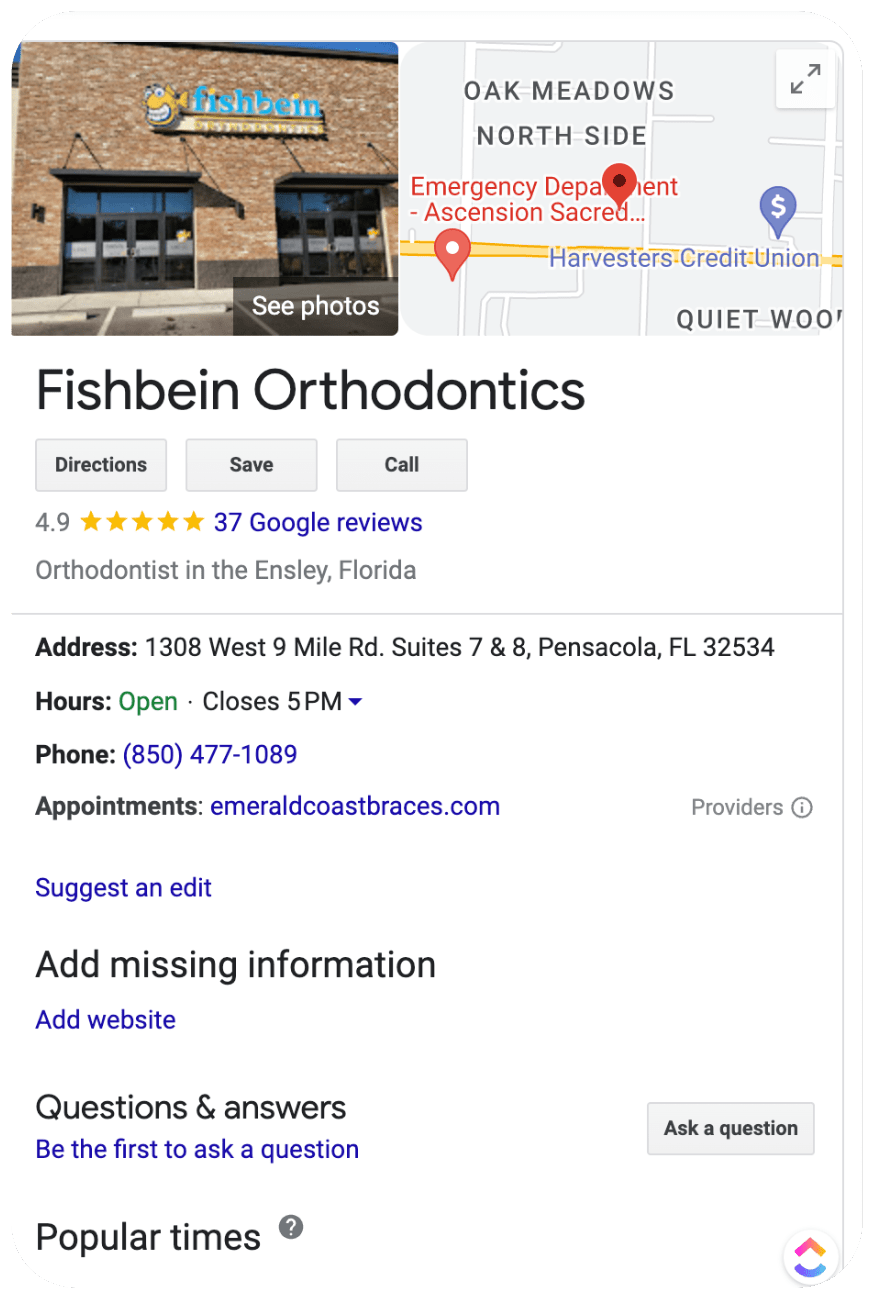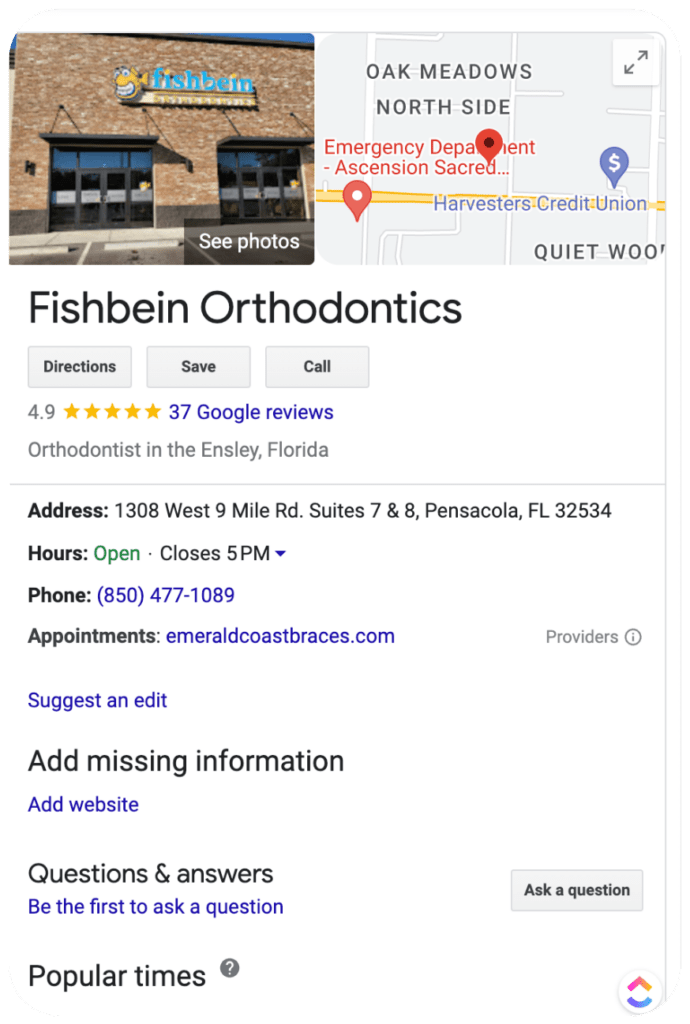 Encourage Reviews
Encourage your patients to leave reviews on your profile. Your star rating is highly visible on the GBP, and having many positive reviews can help improve your visibility and attract more patients. So remind your patients when in the office and encourage them via email or text message campaigns.
Bonus points: REPLY to all reviews (positive and negative). Your patients and potential patients will appreciate the effort, showing that you care what your patients have to say!
Post Updates Monthly
Did you know that Google allows you to post news, updates, and promotions to your Google Business Profile? And Google's algorithms always love fresh content, so regular posting may help you beat out local competitors for one of the top spots.
You can make posts about
Announcement of new locations, doctors, or changes to your operating hours
Special offers or limited-time promotions
New product offerings or services
Add an eye-catching photo and a quick message. Only the first ~10 words will show before users click to see more, so give them a reason to read more. And include a call-to-action, like a link for them to click to schedule an appointment.
The Role Of Social Media In Dental SEO
While social media isn't a direct ranking factor, according to Google, being active on social media helps you accomplish many goals that will boost your SEO rankings. So we consider social media an indirect but significant factor in SEO.
Posting regularly on social media can help you:
Spread content to boost on-site metrics like page views, time on page, and other critical ranking factors.
Build backlinks when your followers link to content or promotions they've seen you share through your social channels.
Create trust with your audience and encourage a higher rate of website conversions.
Generate traffic to your website to help you book more new patients.
Should You Use Professional Dental SEO Services?
As you've seen, there's much to do to master SEO and raise your dental website to the top of the rankings. And most dentists have better things to do than spend time learning an entirely new skill set.
That's why you should also consider using professional dental SEO services. An agency experienced in dental SEO services can help you optimize your website for search engines, build high-quality backlinks, and improve your technical SEO. They can also provide detailed reports on your website's search engine performance, so you can see what's working and what's not.
While it's possible to attempt to optimize your website on your own, working with a professional dental SEO company can provide several benefits, including:
Ongoing Monitoring and Improvement: SEO is a continuing process, not a one-time task. Continuously monitor your website's performance and make improvements as needed to maintain and improve your search engine rankings.
Increased Expertise: SEO experts have the knowledge and experience necessary to optimize your website effectively.
Time Savings: Optimizing your website for SEO can be time-consuming, especially if you're learning from scratch. Working with a professional SEO company can save you time and allow you to focus on running your dental practice.
Better Results: A professional SEO company has access to the latest tools and techniques, which can result in better, faster results for your website.
More Revenue: The ultimate goal of dental SEO is to increase the number of leads and revenue for your practice. Working with a professional dental SEO company will help you achieve your goals more effectively.
Get Started Optimizing Dental SEO for Your Practice
Congratulations, now you have all the info you need to start driving more new patients to your dental practice using Search Engine Optimization.
Hiring an SEO professional or agency makes the most sense if you want the fastest and most predictable results. The cost may vary, but a talented SEO team will pay for itself by bringing new patients through your door.
Your journey to the top of Google's search results starts now—so get out there and dominate local SEO in your market. And experience the long-term growth impact of increased visibility and authority online!