Teledentistry has permanently altered the landscape of the dental industry in the wake of the COVID-19 pandemic. Today it's an indispensable part of any growth-minded dentist's toolbox, especially in orthodontics.
While it's true many forward-thinking dentists had started adopting teledentistry options before 2020, pandemic-related health and safety protocols drove explosive growth. As a result, overall telehealth visits increased by 50% in 2020.
Once patients realized the convenience of virtual dental care, they were in no rush to head back to the office. According to the Centers for Disease Control (CDC), as many as 37% of Americans reported using telemedicine services in 2021.
Teledentistry is here to stay, changing how dentists and orthodontists care for their patients. So let's take a look at what it is and the impact it can have on your practice.
What Is Teledentistry?
Teledentistry uses audio and visual tools to provide dental care without the patient needing to visit the dental office physically. Instead, they can use a computer, phone, or another device to remotely connect with a dentist or dental team.
During a teledentistry appointment, the dentist or dental team can look at pictures or videos of a person's teeth, ask about their dental health, and give advice or treatment recommendations.
They may also be able to prescribe medications or suggest at-home care techniques or write prescriptions. Teledentistry can be a convenient and effective way to get dental care, especially when it's challenging to go to a dental office in person.
Who Does Teledentistry Help?
Overall, teledentistry can be a convenient and effective option for anyone who needs dental care but finds it difficult—or simply inconvenient—to access care in person.
Patients who can benefit most from teledentistry include:
Patients In Rural Or Remote Areas
When patients live far from major cities, finding affordable dental care that meets their needs can be challenging. It might even take a lot of work to get an appointment!
This is especially true for patients without reliable transportation in areas where public transport is unreliable or nonexistent. For these folks, teledentistry might be the only way to meet their dental care needs in a timely and affordable manner.
Patients With Mobility Issues Or Disabilities
Some dental patients may have trouble getting around on their own. In this case, they can only get to your office if they have someone to help them. Teledentistry can help them get the treatment they need without relying on family or social services to get them to the office.
Patients With Chronic Medical Conditions
Some of your patients might have chronic conditions that make it better for them to avoid highly-trafficked locations to protect their health. Teledentistry can help them get the dental assistance they need without risking their health.
Patients With A Busy Schedule
This segment is critical for orthodontists. Many patients want to avoid taking a day off of work or school to come in for a consultation. By offering a digital consultation instead, you save them some PTO and make them more likely to start treatment with your practice.
Why Should Orthodontists Embrace Teledentistry?
Teledentistry can help most dental specialties, but orthodontists are uniquely positioned to reap the benefits of virtual care.
Some of your biggest competitors today—like SmileDirect Club—offer completely remote care without patients ever needing to visit an office. You may not be able to offer 100% remote care (or even think it's a good idea), but by using teledentistry, you can make your patients' lives a little bit easier. And that makes it more likely they'll choose you over a DIY solution.
Here are some additional reasons why your orthodontic practice should embrace teledentistry if you're interested in growth:
Reach More Patients
Teledentistry can help orthodontic practice orthodontists reach patients who live far from their office or who have mobility issues that make it difficult for them to come in for appointments. In addition, by appealing to a broader range of patients, you give yourself more opportunities for growth!
Make Patients Happier
Helping your patients avoid unnecessary trips to your office leads to higher levels of patient satisfaction. And happier patients tell their friends about you and leave glowing reviews on Google and social media. Nothing grows a practice faster than word-of-mouth referrals!
Boost In-Office Efficiency
Teledentistry can help your orthodontic practice streamline operations and spend less of your valuable in-office time on consultations. When your consultation takes place virtually, you can spend more of your time treating patients. And the more patients you treat, the more money you make!
Be Available 24/7/365
Teledentistry allows patients to set their own appointments, even outside regular business hours. So, for example, if your patient feels a need for straight teeth at midnight, they can get their virtual consultation started now while the desire is fresh in their mind. On-demand consultations can reduce no-shows and make patients more likely to start treatment.
How Does Teledentistry Work?
How you deploy teledentistry tools depends on your dental specialty and how you need to serve your patients. But teledentistry companies are creating new innovative solutions every day, so one of them is bound to meet your needs.
Asynchronous Teledentistry
When orthodontists offer virtual consultations, it is usually via asynchronous teledentistry. This means that the patient sends the requested information at their convenience. And then, you reply to them with your treatment suggestions later.
If you want to offer asynchronous virtual consults, you can easily embed a consultation widget right on your website, like in the screenshot.
Asynchronous teledentistry is the most convenient and flexible option, but it is not appropriate for all use cases. Instead, sometimes you'll need to offer live appointments.
Live Teledentistry Appointments
If you need to book live calls with your patients, you'll want a teledentistry company that allows you to schedule and conduct live video calls.
You may choose to embed a booking software into your website so that clients can book an appointment on their own. Or you may need to book their teledentistry appointment over the phone and then send them a link via email or text message.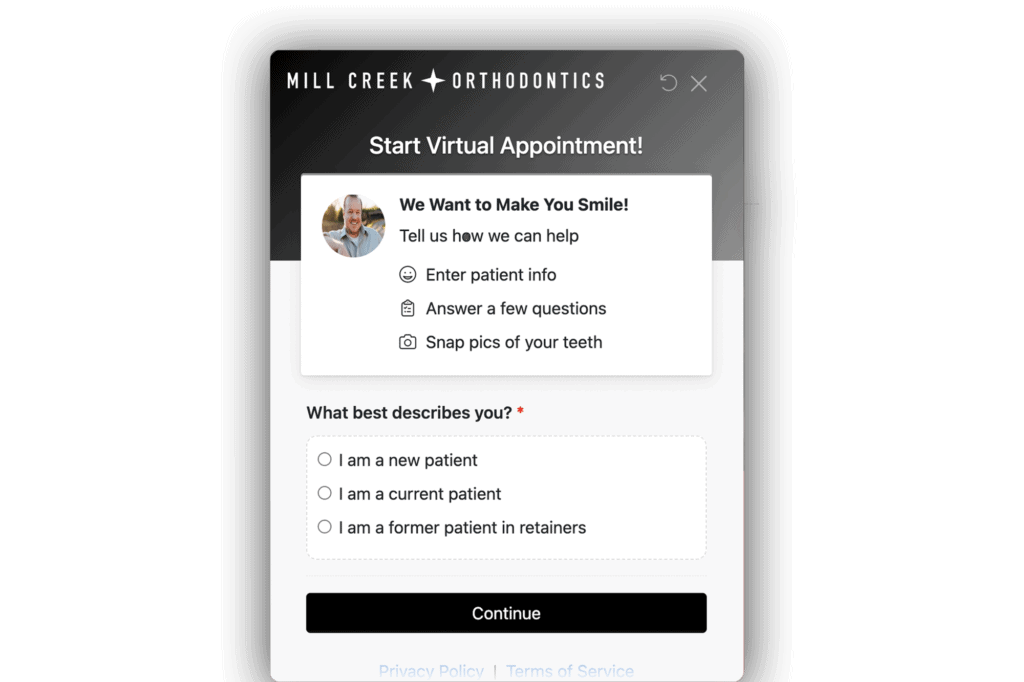 How Can Orthodontists Get Started With Teledentistry?
Fortunately, it's relatively easy for orthodontic practices to start using teledentistry. Several companies have created easy-to-use platforms that make virtual consults a breeze.
Check out our article on the best teledentistry companies of 2023
But virtual consults add a whole new set of procedures to your office. So it's best to get guidance from someone with first-hand experience seamlessly integrating virtual consults into orthodontic practices.
HIP has helped 100+ orthodontics practices achieve high-ROI growth through virtual consults, high-converting digital marketing, and our proprietary Patient Acquisition and Retention (PARF) framework for attracting and converting new patients.
We're behind the growth of some of the biggest names in the industry, like Fishbein Orthodontics, Dr. Jennifer Orthodontics, All Smiles Orthodontics, and dozens more!
If you want to learn how the nation's top 8-figure practices use teledentistry to multiply their growth, reach out to us today for a free consultation!