In a world dominated by digital advertising, it can be easy to overlook one of the most powerful tools dentists have for reaching new patients—direct mail.
Dental direct mailing services have been bringing new patients through the doors of dental practices for nearly 100 years, and it's still incredibly effective. From introducing yourself to the neighborhood to promoting new services or pitching a limited-time promotion, showing up in the mailbox of the folks in your community can help drive a significant boost in revenue.
In this article, we'll discuss some of the benefits of direct marketing campaigns for dentists, best practices for direct mail, and tips for creating highly-successful dental direct mail campaigns.
If you're looking for another way to drive patients to your office, keep reading!
What Is A Direct Mailing Service?
Even if you're unfamiliar with direct mail, you know what it is. Direct mail is the marketing strategy of sending unsolicited physical mail, like postcards, brochures, or letters, to people's mailboxes.
If you've been around long enough to remember Columbia House Records or the Publisher's Clearinghouse Sweepstakes, they're some classic examples of direct mail that every American was familiar with.
Even today, our mailboxes get filled up daily by unsolicited ads from all kinds of businesses. Some people might refer to it as "junk mail," but it's an incredibly profitable way to drive new business in almost any industry.
Direct mail services are companies dedicated to helping companies design, print, and distribute direct mail pieces to their target customers. For example, you can mail a list of existing customers, purchase lists that meet your ideal customer profile, or get mailing lists by zip code to hit all the homes in your local area.
Does Direct Mailing Still Work?
Despite the boom of online advertising—Facebook Ads, Google Ads, display ads, influencer marketing, email marketing, and more—direct mail continues to drive sales every year. American businesses spend over $38 billion on direct mail annually—and they're not doing it because they lose money.
The average response rate to direct mail is estimated to be 4.4%, whereas emails lag at 0.12%. And direct mail open rates can reach as high as 90%! However, most companies are lucky if they'll get 8-10% of people to open an email.
The evidence is overwhelming that direct mail is still incredibly effective at driving new business. And that's especially true for local businesses with a physical presence in the community, like dental practices.
How Does Direct Mail Work For Dentists?
Dental direct mail campaigns are most likely to take the form of a flyer or postcard, but creative campaign ideas or personal letters can also be effective.
You should add a way to identify which new patients came due to your direct mail campaign. For example, you could set up a specialized landing page for direct mail patients on your website or, at the very least, ask new patients how they heard about you when they called your office.
Measuring the success of your mailing will help you understand just how effective and profitable your campaign was.
If you want to execute a direct mail campaign for your business, the best way to start is to reach out to a proven direct mail service. They may even offer examples of direct mail campaigns other dentists have run that delivered outstanding results.
What Are Some Examples Of Dental Direct Mail Campaigns?
Direct mail campaigns can be simple and straightforward or bold and creative. The most important thing is to grab attention and show your audience how you can help them.
Here are 5 dental direct mail ideas you could try:
Create a postcard offering complimentary teeth whitening sessions for new patients.
Send out postcards with a special offer for a discounted check-up.
Create a brochure detailing your staff and the services you offer.
Send out leaflets with reviews and pictures of happy patients.
Mail a personalized letter with your signature introducing the practice and making an "exclusive" special offer.
Why Is Direct Mail So Effective For Dentists?
It Helps You Reach A New Audience
Direct mail is one of the most efficient and cost-effective ways to reach people in your community who aren't already in your circle of contacts and patients. By targeting specific demographics or zip codes, you can ensure that you are reaching the right people who may not be reached through digital channels or with SEO.
And because everybody has to check their mail at some point, it guarantees you'll reach a more significant portion of your target audience than any other form of local advertising.
You Can Target The People You Want To Reach Most
For example, you can target people in a particular area or run a campaign for implants for households within a specific age range.
Direct mail also allows you to create more targeted campaigns and tailor your messaging to speak directly to your target audience. For example, you can include personalized messages, such as a patient's name or a special offer, to build trust and loyalty.
You Get Measurable Results
By using tracking numbers, codes, or surveys, you can easily measure the success of your direct mail campaigns. Unlike advertising in local newspapers or billboards, you can measure the return on your investment and determine which strategies are working and which ones need to be improved.
You can also use analytics to track who is opening and engaging with your messages so that you can see the effectiveness of your campaigns in real-time. This allows you to make adjustments and improve your campaigns as needed.
Best Practices For Direct Mail
Just because you mail something doesn't mean you'll be overwhelmed with new patients. Direct mail is an investment, like all marketing, so take time to ensure you're doing it right if you want to get results.
Here are some best practices dentists should keep in mind when creating direct mail campaigns:
Create eye-catching content
You need to stand out in their mailbox to grab attention! So use high-quality images and exciting designs to capture your audience's attention. Bold colors may help you stand out, but be sure to use colors, fonts, and graphics that are consistent with your brand as well.
Include the recipient's name and other personal information when possible to create a more personal connection. This can help you build relationships and loyalty with your patients, and one study showed that simply adding a first and last name can boost open rates by 135%!
Keep your messaging simple and concise.
People don't have a lot of time to read complex pitches or small text. So make sure your messaging is clear and easy to understand.
Test different types of mailings
Try different formats, such as postcards, letters, or brochures, to see which works best for your audience. Just because the practice across town does postcards doesn't mean you have to. Feel free to experiment to see what gets the best results.
Make sure to include a clear call to action in your mailings and tell your reader what you want them to do. Should they visit your website? Call your office? Or stop by during a special event? Give them all the information they need to take that action, too, like your phone number, website URL, or the address, date, and time of a special event. Help them take the next step in the process.
Track your mailings to see which ones are working best and which ones need to be improved. Then, learn what your audience responds to, and don't hesitate to repeat successful campaigns annually or bi-annually.
Direct Mail vs. Online Marketing
Direct Mail vs. Facebook Ads
Comparing direct mail vs. Facebook Ads or other online ad channels is missing the point. Because the truth is that both of these channels work. And they work best when you use them together as part of an omnichannel marketing strategy.
Combining a focused direct mail campaign schedule with an online marketing framework, like HIP's Patient Acquisition and Retention Framework (PARF®), is a potent recipe for growth at any dental practice.
Direct mail allows you to reach a local audience and build personal relationships with your patients. Meanwhile, online advertising is great for targeting specific demographics, reaching a wider audience, and tracking real-time results.
By combining the two, you can engage with a more significant percentage of your target audience and make your campaigns more effective. For example, if a mother in your community receives a postcard from you and then sees an ad on Facebook, she'll remember you. The more times you can get your message in front of the same people, the better your chances are to win their business.
Direct Mail vs. Email Marketing
Because both include the word "mail," it's inevitable that email and direct mail are often compared to each other. But the truth is that they both play complementary roles in your marketing strategy.
Email marketing is famously the highest-ROI marketing channel. But in order to send emails, you need an email address. For this reason, it's ideal for building relationships and pitching offers to existing patients or leads.
Direct mail, on the other hand, is most powerful for reaching new potential patients. Because you can blanket a neighborhood or buy mailing lists, it helps you make connections with households that aren't currently in your CRM.
The best news is that both of these marketing channels help you make money and grow your practice. So deploy them both strategically, and watch your practice grow!
Want To Launch Direct Mail For Your Dental Practice?
If you want to launch a direct mail campaign without experience, where should you get started?
Fortunately, there are dozens of direct mail services out there that can help you. And many of the best direct mail services for dentists have flexible templates you can choose from without wasting too much time or hiring an expensive designer.
Check out this design from PostcardMania.com: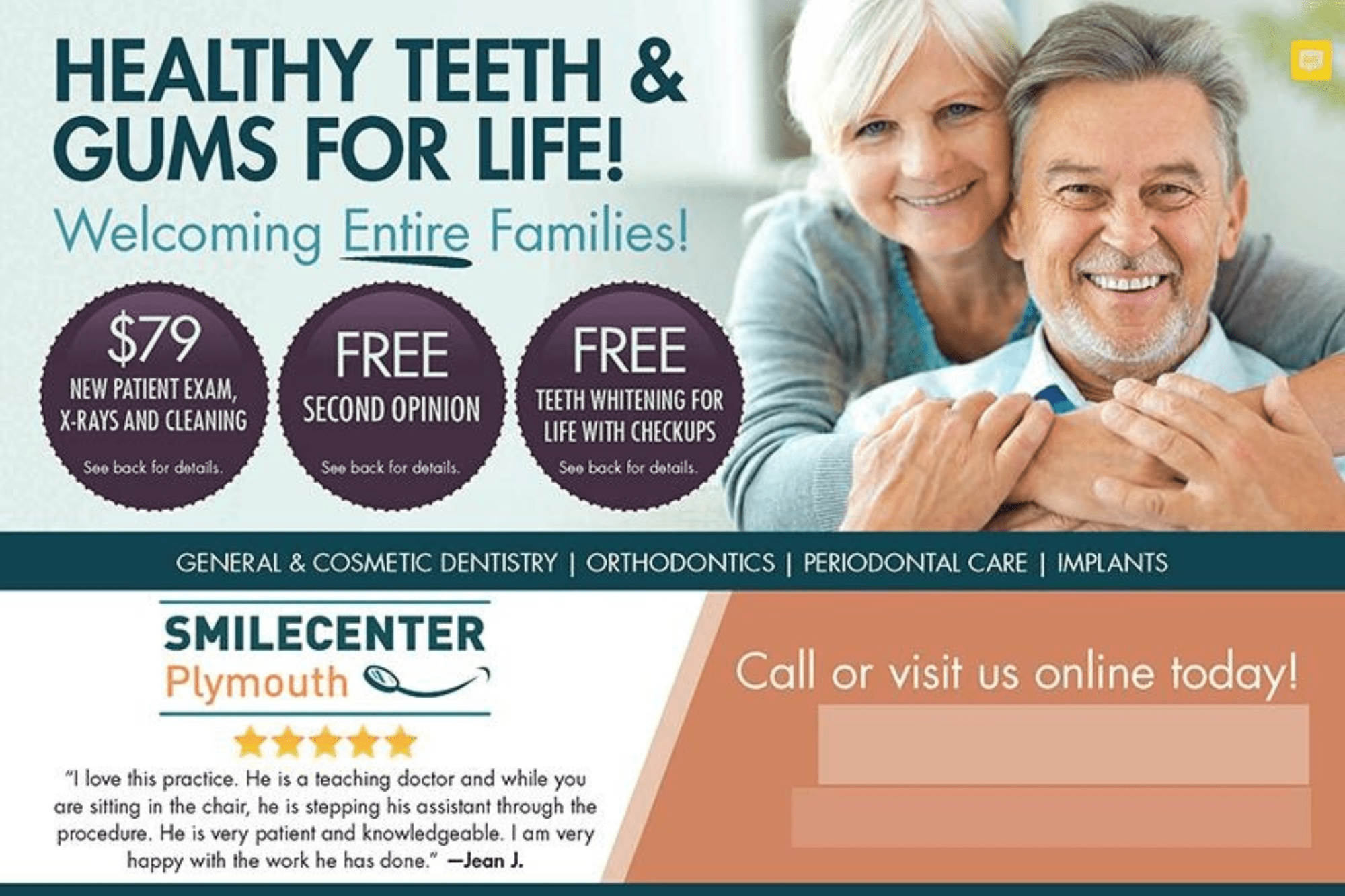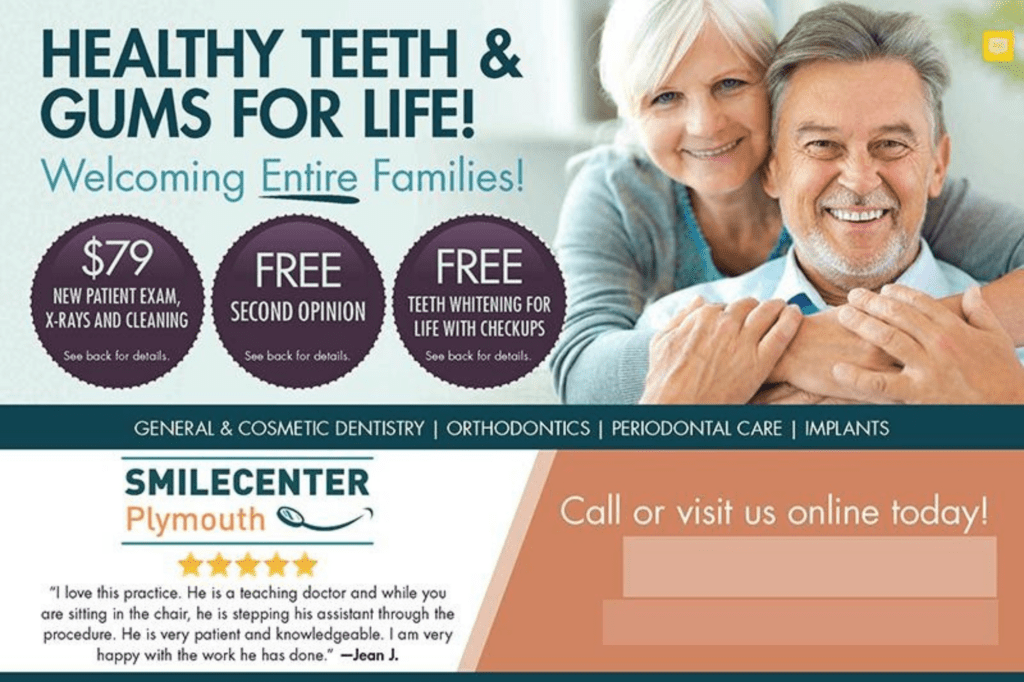 And here's another example from them, targeting families: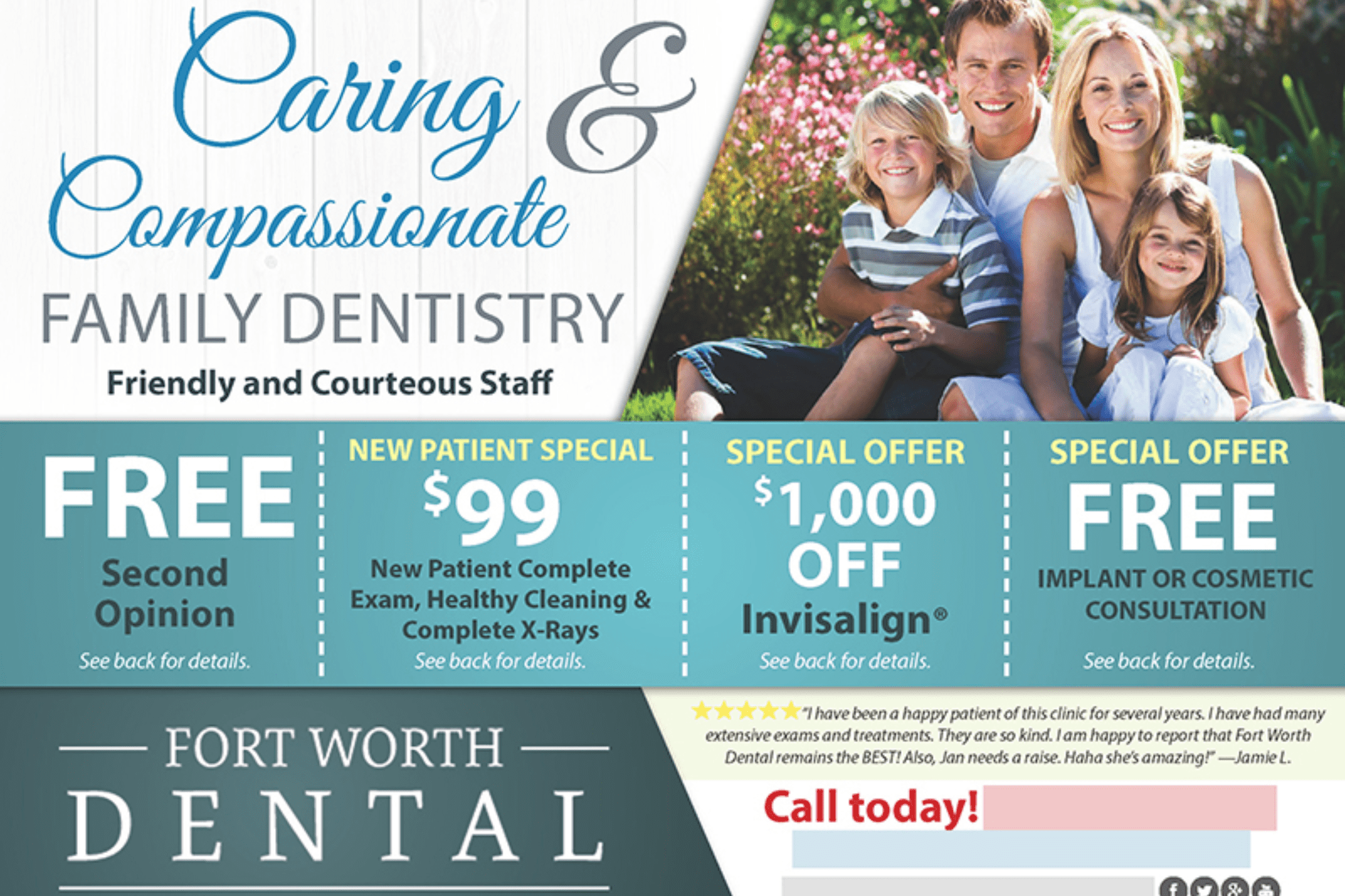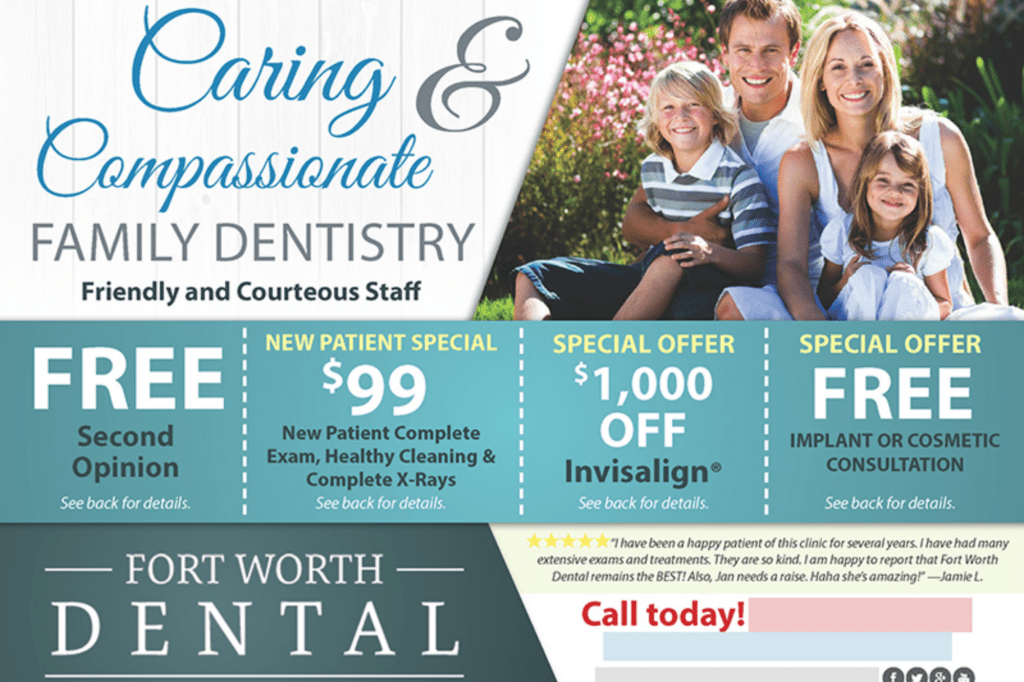 Picking one of these templates will allow you to get started quickly. And the sooner you get started, the sooner you'll begin reaching new patients.
By now, you understand precisely why direct mail should be a part of your dental marketing strategy. It creates a consistent return on investment and helps you reach potential patients that might otherwise slip through the cracks.
Good luck with your first campaign…and happy mailing!