Some of the biggest challenges for dental offices include the increasing competition in their area and an overwhelming list of marketing ideas that leave them feeling confused. You are an authority in your field who has treatments the people in your community need, but you may be struggling to find a way to best showcase your skillset. We are here to help guide you to one of the most tried-and-true marketing strategies that is highly effective in communicating your brand and educating your audience on your services offered; a dental website. 
Need a Fresh New Website That Draws in New Patients?
if you are looking to reach your target audience with a comprehensive explanation of what your practice has to offer, a website is a perfect platform to address these needs. You can customize the design and content of your site to show new and existing patients the highlights of your practice and allow them to contact your team about seeking treatment. 
Your Dental Website Could Be the Problem
Dental websites are the foundation for every effective dental marketing strategy. As prospective patients search for dental services, they will look at a practice's website to determine whether or not it's the right fit for them. If your current website does a poor job of demonstrating your expertise or has a confusing interface, patients may be turned away from pursuing treatment with you, even if you're the best dentist in the area. 
The Best Dental Websites
The goal of your dental website is to encourage visitors to fill out a contact form and schedule an appointment with your office. Prospective and existing patients are more likely to reach out if they find informative content on your site that reassures them` you have the dental services they need. It's also crucial that your website is easy to use and has a simple interface that invites users to look around.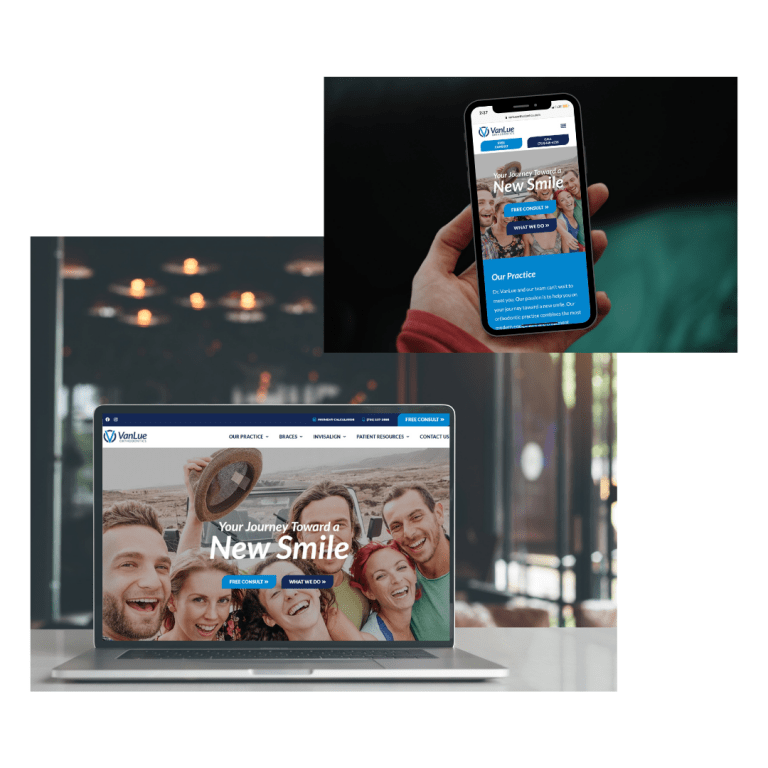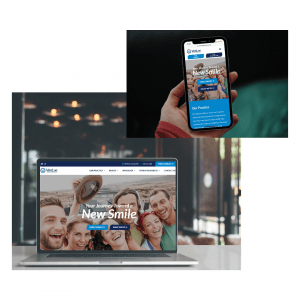 Website Design and Overall Quality 
Dental websites should have a high-quality design that is aesthetically pleasing, uncluttered, and classic. Using a good color scheme and following graphic design principles are essential factors in your dental website design.
When building your websites, pay attention to the following elements:
Color palette 

Your brand 

Video 

Team photos 

Navigation bar 

Before and after pictures of your work and other types of photography 
How Does it Work 
Not only should your website have a professional appearance, but it should also be user-friendly and engaging. If you overload your site with animations, images, or educational videos, it may be difficult for prospective patients to find relevant information that attracts them to your practice. We want to encourage users through design and content creation to stay on your site for as long as possible and learn about all the excellent services your practice has to offer. 
How Does it Benefit the End-User?
The best dental websites provide detailed answers to the questions that prospective patients have when they are looking for a dental service. It's essential to have a well-designed and aesthetically pleasing site that conveys your professionalism while also being easy to use and informative about your dental practice.
The Importance of Local SEO for A Dental Practice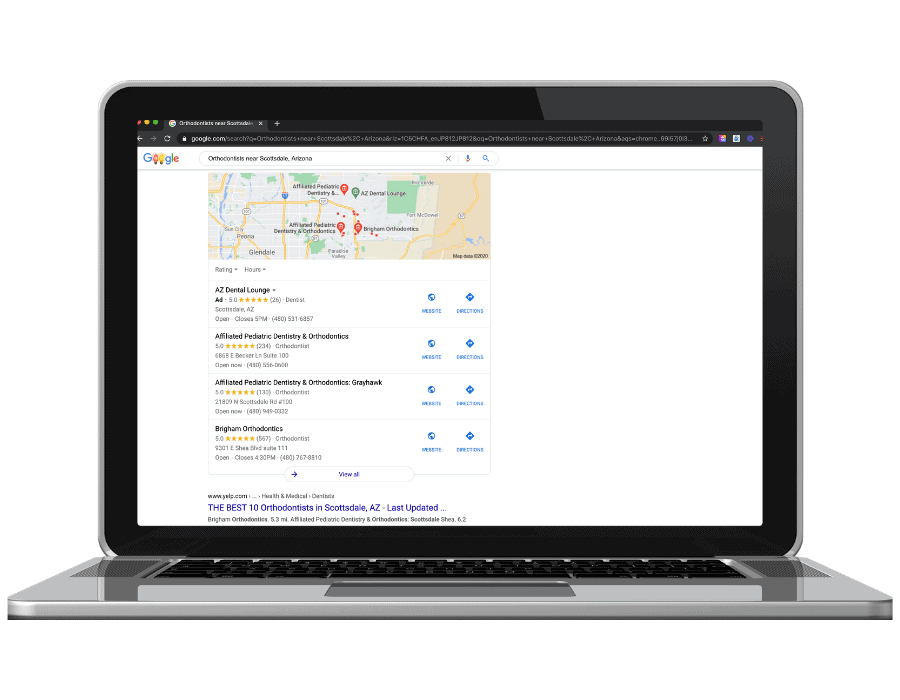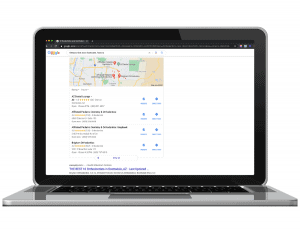 As you craft the perfect dental marketing plan for your practice's needs, it's crucial to emphasize search engine optimization or SEO. SEO is one of the most critical facets of dental digital marketing, and the higher your SEO ranking is, the closer you'll be to the top of search results. In the last few years, this practice has developed and evolved so that Google is looking at more aspects of your website than ever. 
Targeted keywords are still helpful, but now Google will measure how visitors interact with your website. Google and other search engines will consider how long visitors are spending on your site, if they are exploring multiple pages, and if they're engaging with the content you've published. All of these factors will affect your standing on the search results change and determine how easily a prospective patient can find your site. 
Using Digital Marketing & Social Media to Drive Traffic 
Implementing SEO strategies may seem daunting, but there are practical ways you can increase your ranking and set your practice up for long-term success. By taking advantage of SEO tactics in your digital marketing plan, you will help drive prospective patients to your website and encourage them to schedule their first appointment. To make your website easier to find on Google, make sure you bid on keywords related to your dental practice's location. This will help attract patients in your area who would be most likely to pursue treatment with your office. 
Content Planning
To maximize your success while publishing content for new and existing patients, take the time to plan out what information you want to include on your practice's website. You'll want to provide prospective patients with all of the details they need as they're looking for a new dentist. If you answer all of their questions within your website content, this will help you establish credibility and persuade patients to contact your team. 
Basic Information
The first step is including basic information about your brand, office, and your team, such as:
Phone number

Email address

Photos of your work

Photos of your staff

Physical address

Service you offer

Specialist practices

Pricing information
Your contact information can be placed on the sidebar or footer, so it's displayed on every page. This will make it much easier for the site visitor to contact you.
Include Information that Makes You Stand Out from the Competition
Include all of the services that set you apart from your competitors, such as teeth whitening technology, same-day implants, or exclusive treatments. To increase the growth of your patient base, it's essential that you make it clear on your site that you have treatments they can't receive anywhere else. Even if it's just a difference in the quality or prices of services, these details will make your practice stand out and encourage site visitors to book an appointment with the office that meets all their needs. 
Call to Action
Each page only your site should have a call to action that directs the visitor on what to do next. The goal of your site is to get a user to book an appointment, so you should include a feature that allows them to schedule their appointment or contact your team for more information on a service. This way, you can grow your patient base and create a more engaging site that will help your SEO strategy. 
Link to Social Media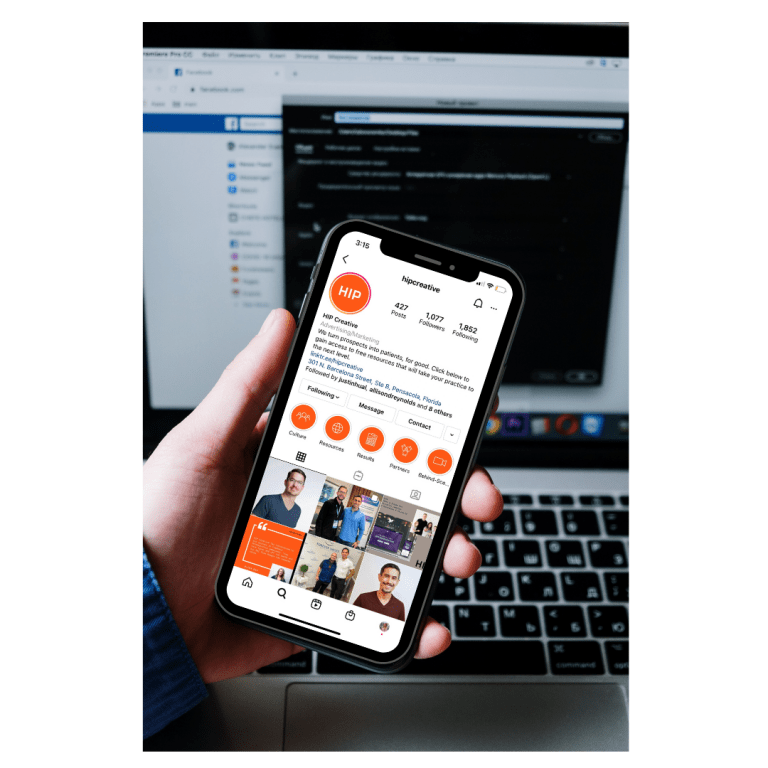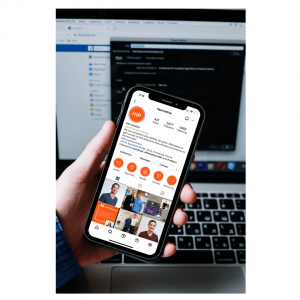 An effective website strategy can help you establish an excellent online presence, so be sure to link your social media accounts on your site. By linking platforms such as Instagram, Facebook, or Twitter, you will be able to easily connect with your patients and build a relationship with them that makes your team seem warm and inviting. 
A cool feature to include on your site is a news feed that shows your posts from Instagram or Twitter. This way, prospective patients can see your posts about services and office updates without having to leave your site. 
Patient Reviews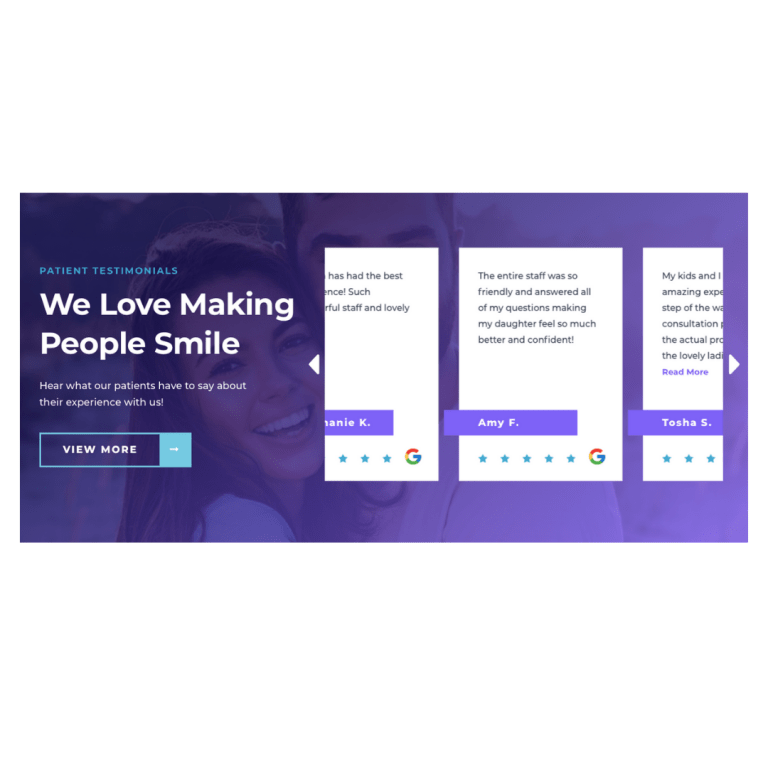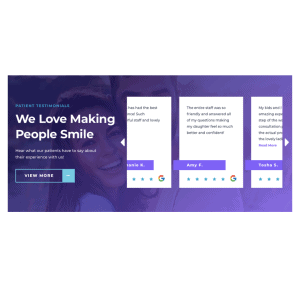 Your practice has worked hard to serve your patients well and establish long-lasting relationships within your community. Take advantage of the results of your hard work and highlight your new patient reviews on your website to help you establish credibility. Positive patient reviews serve as an unbiased account of your practice's services, quality, and culture. When they read about these qualities, prospective patients will be more likely to book an appointment with your office. 
About Us
Effective dental marketing is all about establishing a connection with prospective patients and encouraging them to visit your office, and a great way to connect with a patient is through an about us section on your website. This section should include your mission statement and information about you, your team, and your passion for your work. Use the about us section to humanize your practice's online presence and showcase your office's personality. It's essential to place a heavy emphasis on customer service, how important your clients are, and how your business strives to meet every patients' needs. 
Contact Us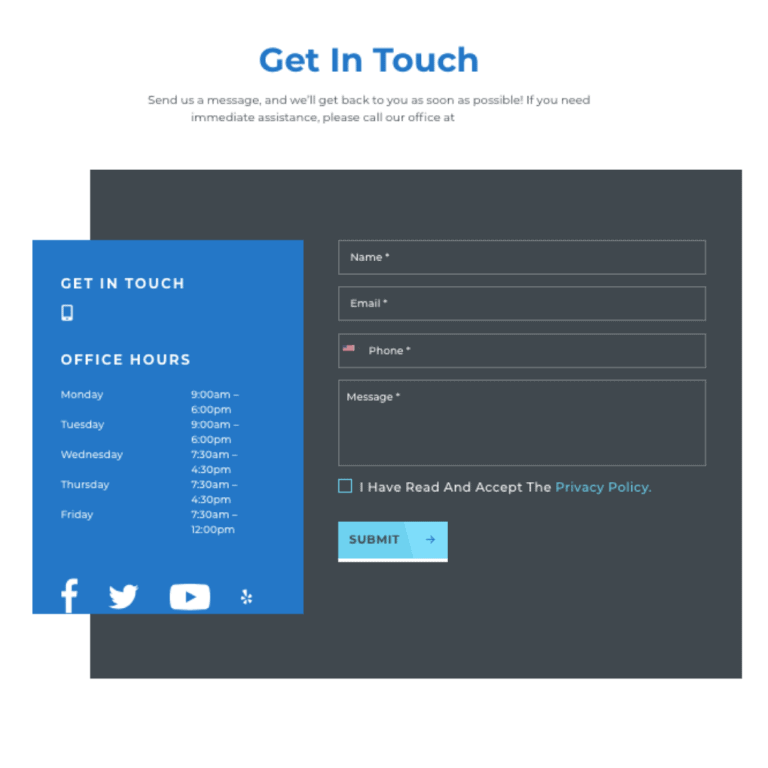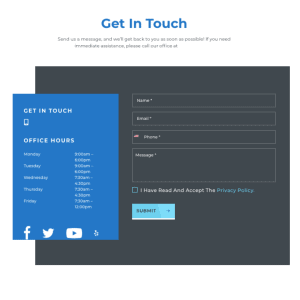 Include a contact page on your website that will allow prospective and existing patients to get in touch with your team and book appointments. This section should include your phone number, email address, and a place for new patients to send you a message about your services or schedule. To drive traffic to this page, you can include buttons on other site pages that will take them to the contact section and encourage visitors to reach out to your team. 
Site Design and Layout
When a patient walks into your office, you want them to have a seamless experience that makes them feel positive about your practice. However, this experience begins long before they step through your doors. By creating a site that is simple to use and informative, you can set a positive tone for your patient's experience before they even have their first appointment. 
Make a Site Outline 
As you consider what topics and services you want your site to feature, create an outline that organizes these categories and pages in practical ways. A good place to start is to do market research and look at what information your competitors have on their site and which photos, colors, and layouts they use to convey their brand voice. This research can inform the direction of your site and give you ideas on how to make your site stand out from the crowd. 
Prioritize Information 
To prevent having clutter that makes your site difficult to navigate, figure out what information will be the most appealing to visitors and prioritize its placement. As your website comes together, you can reorganize information and create a tool that offers simple navigation and a clean look. 
Website Design Companies for Dental Practices 
If designing and managing a website isn't one of your vast skills, it's best to hire a full-service website design and internet marketing agency that will help you establish a site that reflects your brand. Our agency has created countless websites for practices such as yours, and we know how to attract prospective new patients through engaging content and aesthetically pleasing graphic design. You have enough to manage on a day-to-day basis as you build a thriving practice and treat the smiles of your community, so let us take website management off your to-do list. 
You deserve a site that is as stunning as the smile transformations you create at your practice. We use a content management system that gives our dentists greater control to edit their custom website design with simple point and click features. Unlike other agencies, our team of experts will continue improving upon your site long after it goes live to the public. If you ever have a new service you want to include on your homepage or would like to refresh your team pictures on the site, we will make these adjustments quickly so that your targeted audience benefits from the most current information. 
An attractive dental website design will encourage visitors to book their first appointment with your practice and will ensure the growth of your patient base. Our agency has a team with a variety of talents from design to content creation, and we will help you see a return on investment as prospective patients join your patient family and purchase your quality services. 
Final Thoughts 
The goal of creating a site for your practice is to show prospective patients the services offered by your practice and to build your brand in the community so that you can experience healthy practice growth. You've worked hard to establish a practice that cares for the needs of its patients and provides top-of-the-line treatments, and it's crucial that you demonstrate this commitment to quality to the public.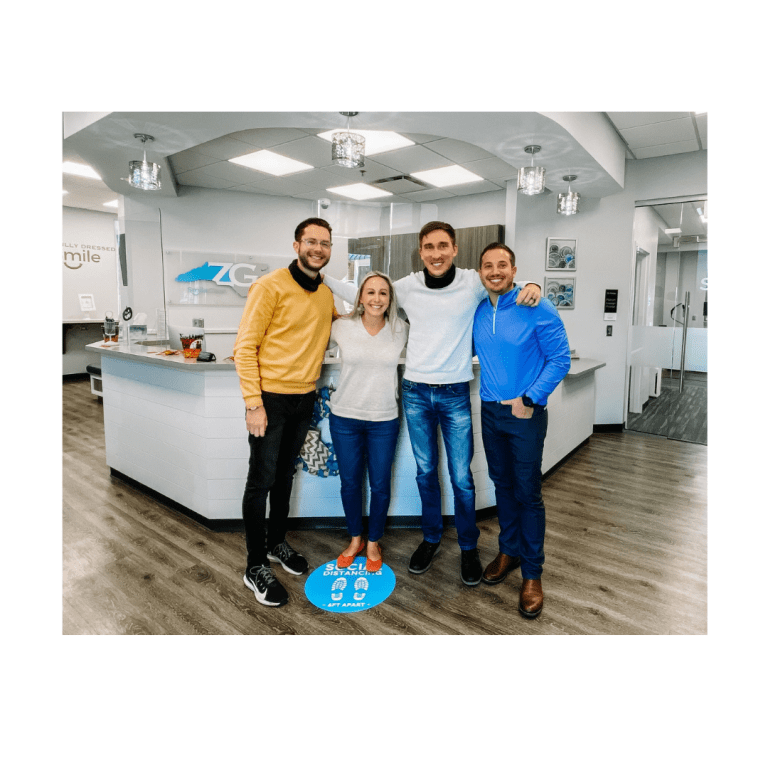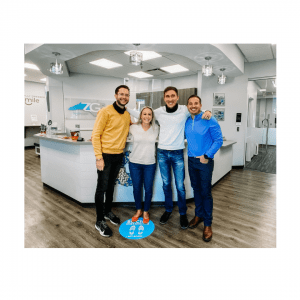 By including content that is engaging and informative, you can encourage existing patients to schedule their next appointment or prospective patients to plan their first visit to your office. No one understands your practice better than you, so make sure your website reflects the qualities that make your office unique and will set you apart from your competitors. People are looking to make a connection with your practice and want to see credible information that inspires trust, so make sure your site rises to these standards. A well-designed website built by marketing professionals can go a long way toward improving your online presence so that you can build your reputation in the community and see an increase in new patients.